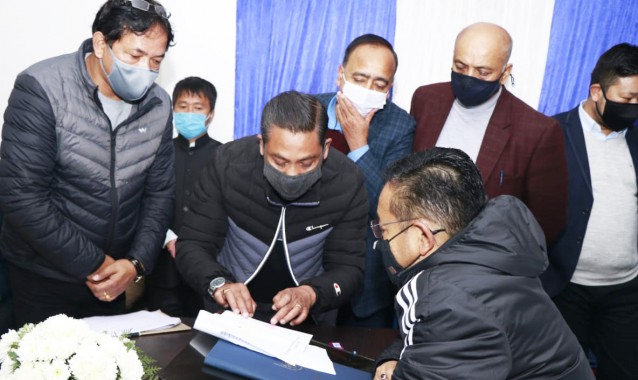 Saturday, Jan 16, 2021 08:30 [IST]
Last Update: Saturday, Jan 16, 2021 02:50 [IST]
CM completes Poklok-Kamrang tour
NAMCHI,(IPR): Chief Minister Prem Singh Tamang on the third day of his Poklok-Kamrang constituency tour met the public of Mamley-Kamrang, Wok-Omchu and Tingrithang. He was accompanied by secretaries and HoDs of various departments.
The Chief Minister, also the area MLA, is on a three-day tour of Poklok-Kamrang constituency which concluded today.
This tour has been undertaken by the Chief Minister to express his solidarity with the people and to address the grievances and other queries of the public at large. Additionally, he also assisted the ailing and other indisposed populace with required references.
Moreover, the Chief Minister through his detailed meeting with the masses took stock of the essential developmental projects which needs to be undertaken at the constituency.
During the course of his three-day tour, the Chief Minister distributed cheques to the panchayat presidents for the upliftment of the area. He also handed over wheelchairs, air mattresses and other equipments namely Xerox machines and other apparatus to Self Help Groups and to disabled people for their benefit. Similarly, the Chief Minister's spouse Krishna Kumari Rai gave away desktop and printer to various Self Help Groups of Upper Kamrang.
The Chief Minister also handed over cheques amounting to Rs. 2 lakh each to Safalta and Babri Self Help Groups under Sikkip BAC. The cheques has been released by IDBI Bank, Jorethang branch under the scheme 'Development through Credit' for people who are practicing livestock farming and other allied activities.