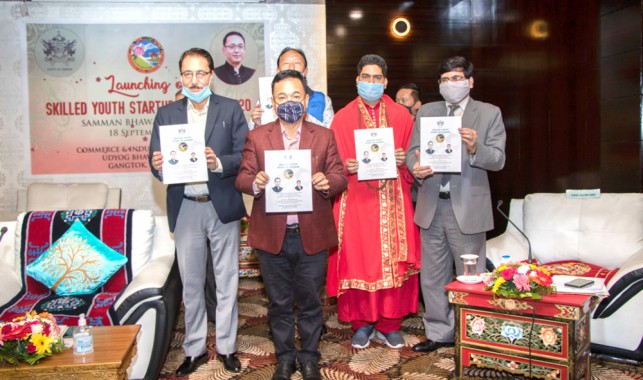 Saturday, Sep 19, 2020 13:45 [IST]
Last Update: Saturday, Sep 19, 2020 07:52 [IST]
CM launches Skilled Youth Start Up Scheme
SE Report
GANGTOK: Chief Minister P.S. Tamang today informed that State government has launched the Skilled Youth Start Up Scheme to facilitate the un-employed youths of the State to take up entrepreneurship in several areas.
Stating that the State government has initiated the scheme that would create new livelihoods option for the youths of the State and make them self reliant, Tamang also suggested the nodal department to constitute a committee to guide and inform the beneficiaries.
"The State has huge scope and potential in terms of dairy, poultry, piggery and other array of opportunities to explore their entrepreneurial skills and propel them towards contributing in the socio economic development. This is also one of the key ways to build an Aatmanirbhar Bharat and Aatmanirbhar Sikkim," said the Chief Minister. He added that the current crisis has been an eye-opener and appealed the youths to utilize the scheme and make themselves self sufficient. The Chief Minister was speaking during the launch of Skilled Youth Start-up Scheme at Samman Bhawan here today, an IPR release informs.
The 'Skilled Youth Start Up Scheme', is envisioned to generate equitable entrepreneurial opportunities in rural as well as urban areas of Sikkim, particularly among the educated unemployed youth to become self employed by setting up of manufacturing, service, business, cooperative, agriculture and allied enterprises by availing loan with back ended financial subsidy assistance at the rate of 50 per cent for Below Poverty Line and 35 per cent for rest on financially viable and bankable projects from the State government.
Commerce and Industries minister B.S. Panth, in his address, highlighted the wide range of opportunities under this scheme for the unemployed youths of the State. The scheme is to generate entrepreneurship among the educated unemployed youths of the State and also to garnish the multi talented youths to take up entrepreneurial activities in their desired fields, he said. He also informed that admissible financial assistance of either 50 or 35 per cent of the approved bankable project cost in the form of back ended subsidy will be provided by the government through the Commerce and Industries department. The back ended subsidy shall be released by the department to the concerned public sector banks/ PSU financial institutions upon sanction and disbursement of the project by them.
Commerce and Industries secretary H.K. Sharma highlighted about the Skilled Youth Start up scheme, an entrepreneurial scheme for the vast scope of the unemployment youths of the State. He also informed about the eligibility criteria, projects covered under the scheme and its implementation processes.
During the occasion, the Chief Minister and other dignitaries also released the scheme booklet and brochure, the release adds.