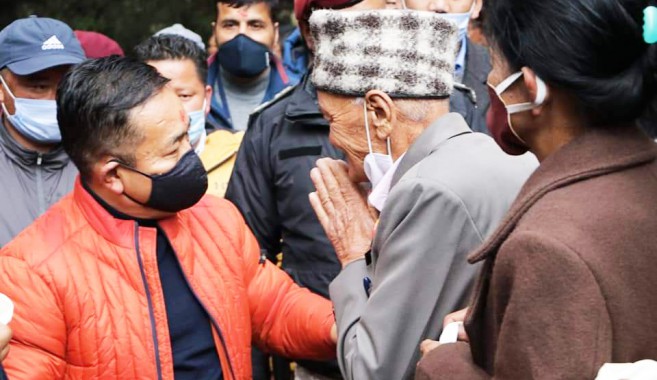 Friday, Mar 05, 2021 07:45 [IST]
Last Update: Friday, Mar 05, 2021 02:09 [IST]
CM on West tour reaches Rinchenpong
KUSH HANG LEEWANG
GEYZING,: Continuing his tour of West Sikkim, Chief Minister P.S. Golay on Thursday attended a public outreach programme at Rinchenpong.
The Chief Minister met and interacted with panchayat members and public of eight GPUs of the constituency and enquired about their needs and development-related demands. He also took stock of the grievances of the people.
Golay asserted to look after developmental demands and grievances placed by the public. The senior citizens and patients suffering through various ailments also met the Chief Minister and they were assured medical aid through the State government.
A day-long free medical camp was also set up for the people of the constituency by SKM Garib Jan Kalyan Prakosta.
Golay also visited Rinchen Choeling monastery located nearby Rinchenpong bazar and offered his prayers. He also had a brief interaction with the monks.
Earlier, en route to Rinchenpong, the Chief Minister paid a surprise visit to Darap police outpost under Yangthang constituency and interacted with the police personnel.
During the public outreach programme, former Nayabazaar Jorethang Municipal Council vice president Pema Tamang and three other former councillors joined the ruling SKM. Golay welcomed them into SKM fold by offering khada.
Pema Tamang maintained that they joined SKM considering the development-oriented policies of the party and added that they wanted to work in tandem with SKM-led State government.