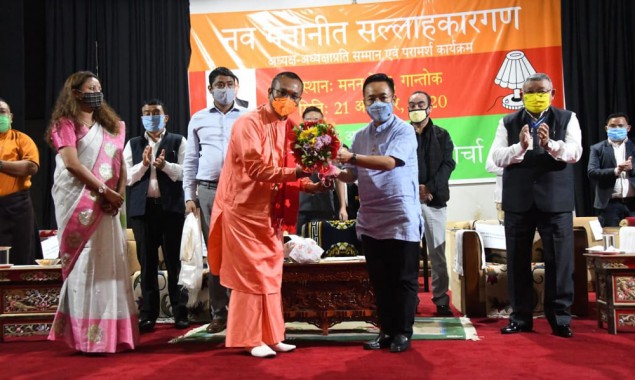 Thursday, Oct 22, 2020 13:30 [IST]
Last Update: Thursday, Oct 22, 2020 07:50 [IST]
CM shares govt's plans & programmes with newly appointed chairpersons & advisors
SE Report
GANGTOK: Chief Minister and SKM president P.S. Golay attended a consultative programme organised by the ruling front for the newly government appointed advisors and chairpersons here at Manan Kendra today, a SKM release informs.
Addressing the gathering, the Chief Minister congratulated the newly appointed advisors and chairpersons of various departments and State undertakings. He appealed them to reach and assist the people at the grassroots level. He urged them to remain engaged in public service so that people do not face hardships.
To serve the people is our main objective after being a part of the government, said the Chief Minister. He said the government ensured that there were no hurdles for the State's development and benefit distribution to the people despite the Covid-19 pandemic situation.
In other States, all public works came to a halt and even the salaries of the employees were deducted but in Sikkim, nobody including the government employees and Janata had to face such situation, said the Chief Minister. He briefed the advisors and chairpersons of the various achievements and plans of the State government. He affirmed that development works would be intensified once the pandemic situation starts to decline.
SKM vice president (headquarters) Uttam Lepcha placed the welcome address while Chief Minister's press advisor C.P. Sharma spoke on the principles and ideologies of the SKM. The programme was also addressed by Teesta Urja chairman Gyanden Lachungpa while the programme was conducted by Chief Minister's political secretary Jacob Khaling.