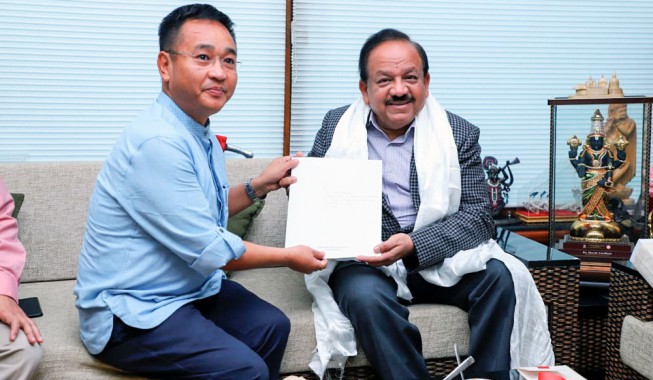 Monday, Feb 17, 2020 13:00 [IST]
Last Update: Monday, Feb 17, 2020 06:50 [IST]
CM submits proposal to Centre for upgrading new STNM hospital to AIIMS
SE Report
GANGTOK: Chief Minister P.S. Golay on Sunday morning met Union Healh minister Dr. Harsh Vardhan at Delhi, an IPR release informs.
During the meeting, the Chief Minister placed various issues of Sikkim to the Union Health minister and also apprised him about how Government of Sikkim is willing to collaborate with Government of India to upgrade the multi-speciality STNM hospital at Sochyagang, Gangtok to the level of All India Institute of Medical Sciences (AIIMS).
Golay requested the Union Health minister to consider the proposal to convert the multi-speciality hospital into AIIMS and with the AIIMS, New Delhi being the anchor hospital. If this happens, it will not only benefit the people of Sikkim immensely but will also be very useful for those hailing from the neighbouring North East region, he said.
After giving a patient hearing, the Union Health minister assured full cooperation from his end and added that he will also send a team of experts to Sikkim to study the proposal.
Further, the Union minister asked the chief secretary of Sikkim and the resident commissioner to approach the Union Health secretary and other officials on Monday in New Delhi regarding the matter.
During the meeting, the Chief Minister was accompanied by Urban Development minister Arun Upreti, chief secretary S.C. Gupta and the Chief Minister's secretary S.D. Dhakal, the IPR release mentions.