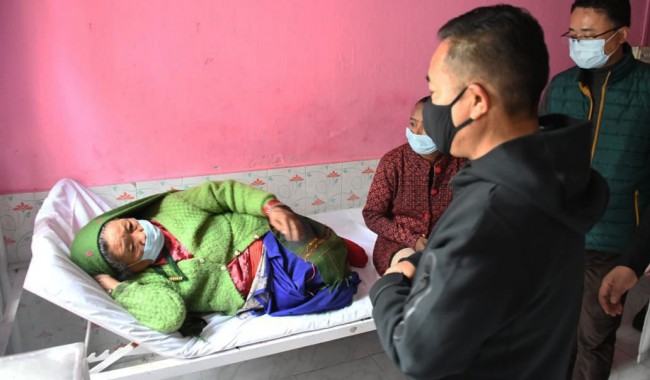 Wednesday, Mar 03, 2021 08:00 [IST]
Last Update: Wednesday, Mar 03, 2021 02:21 [IST]
CM takes stock of developmental needs of remote Tashiding villages
KUSH HANG LEEWANG & PRITAM LAMA
GEYZING/TASHIDING,: On the second day of his Yuksam-Tashiding constituency tour, Chief Minister P.S. Golay on Tuesday met the villagers of Arithang Chongrang, Lasso Tashiding and Labing Gerethang GPUs. The public interaction was held at Yatri Niwas near Tashiding bazaar where the Chief Minister took note of the public grievances and their development-based demands.
Golay also had a talk with the panchayats of the three GPUs regarding various issues related with local development. He assured to give special attention to the issues submitted by the panchayats and people.
Area MLA and deputy Speaker Sangay Lepcha was also present on the occasion.
Earlier, the Chief Minister launched an X-ray facility at Tashiding Primary Health Centre (PHC) and met the under treatment patients of the PHC. He enquired about their wellbeing and assured to provide necessary help in the times of need.
Chief medical officer Anusha Lama expressed that availability of X-ray machine at Tashiding PHC would ease out the healthcare services for the people of the constituency to a certain extent. She informed that among the seven PHCs of West Sikkim, Tashiding PHC was conferred the national Kayakalp award this year.
Golay also inaugurated a 30-bedded girls' hostel of Tashiding senior secondary school and inspected the premises. He assured to provide a study room and other facilities at the hostel.
Speaking to media, Golay said adhoc teachers who have completed eight years of service and fulfil the required norms would be regularized. The State government has given the highest priority to education and health sector, he said.
The Chief Minister also interacted with the teachers and students of Eklavya Model Residential School, Gangyap and Middle Chongrang junior high school. He inspected the free health camp set up by SKM Garib Kalyan Prakosta at the premises of Yatri Niwas. He distributed blankets, utensils, wheelchairs and essential items to the needy families.
Golay had started his three-day tour of Yuksam-Tashiding on Monday from remote areas of Karjee-Mangnam and Dhupi-Norkhola GPUs. He ended his first day at Pokhari village under Dhupi-Norkhola where he spent the night in a tent. Heads of departments and members of his entourage also camped at Pokhari.
The Chief Minister would be visiting Yuksam on Wednesday and meet the local people there ending his three-day tour.