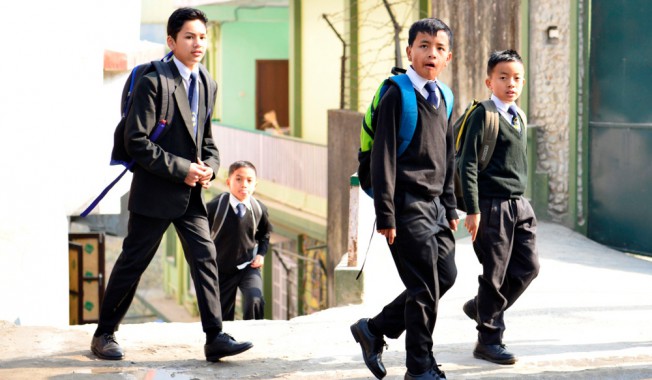 Sunday, Nov 22, 2020 13:30 [IST]
Last Update: Sunday, Nov 22, 2020 07:50 [IST]
Colleges and universities to resume from Monday School classes 6 to 8also to reopen
KUNALRAI
GANGTOK: Colleges and universities in Sikkim would resume from November 23 (Monday), as per a Friday directive from the State government. The decision to reopen the higher education institutions in Sikkim was taken referring to the instructions from Education ministry and guidelines from University Grants Commission (UGC).
There are 15 colleges, four private varsities, one State university and one Central university in Sikkim with around 20,000 students. Students can attend their classes only getting consent from their parents.
All teaching and non-teaching faculties have been directed by the Education department to report to their respective colleges starting Monday. The institutions have to strictly follow the Covid protection guidelines from the authorities.
Speaking with SIKKIM EXPRESS, Education additional chief secretary G.P. Upadhyaya said: "We approached the government for approval after receiving the guidelines and references from the UGC and Education ministry. Once the approval was given, we decided to reopen the colleges and universities in Sikkim starting November 23."
Teaching and non-teaching staffs have to report to their institutions compulsorily. However, attendance of students is voluntary and they need to get consent of their parents to attend the classes, said the additional chief secretary.
The higher education institutions in the State are closed since March due to the Covid pandemic and were largely dependent on online classes.
"Initially we were looking for holding classes for Science students as they need to do practicals. But by opening the institutions, we want to reinstate regularity among the students as classes are in suspension since March due to the pandemic," said Upadhyaya.
In government schools, classes 9 to 12 resumed from October 19 but attendance of students is voluntary and requires consent of their parents. Classes from 6 to 8 would also be resuming from November 23 on the same guidelines.
"Classes from 6 to 8 are also resuming from November 23 on voluntary basis. The aim is to guide students having problems in their syllabus. They can clear all their doubts through interactions with their concerned subject teacher. Similarly those students who missed their online classes can go to schools and cover their syllabus," said Upadhyaya.
Teachers who take the classes 6 to 8 are already in schools since they are teaching students 9 to 10.
"We will make sure that all precautionary measures are followed by the schools and higher education institutions. We are also confident that our students are aware enough and will follow the SOPs laid down by the government," said the Education additional chief secretary.