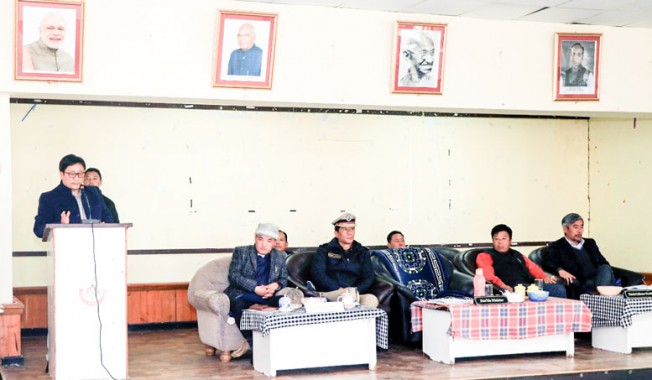 Friday, Feb 14, 2020 14:45 [IST]
Last Update: Friday, Feb 14, 2020 08:47 [IST]
Coordination meet with North officials
Minister to make surprise visits to offices, action against absentees
MANGAN (IPR): Roads & Bridges and Culture minister Samdup Lepcha chaired a district-level coordination meeting with all head of offices of the district, government officers, employees, officers of other organizations including GREF and hydro power companies today here at North District Zilla Panchayat Bhawan.
The meeting was also attended by the former North upadhakshya N.T. Lepcha, North district magistrate Tenzing T. Kaleon, SSP (North) Sonam Gyatso Bhutia.
Kaleon informed that the coordination meeting was called on the direction of minister Lepcha to discuss on various issues related betterment of the Lachen-Mangan and district as whole and to sort out the various issues pertaining to the different department of the district.
Minister Samdup Lepcha, in his address, directed all government officers and employees to maintain punctuality in the office, maintaining proper attendance of staff. He has stated that he shall conduct surprise visit to government offices and strict action will be initiated to those who found to be absent.
Speaking to the works department and engineering section, the minister directed that there must be proper implementation of any scheme with quality work that are being sanctioned by the government in a stipulated time with total transparency. Further, the engineering section have been directed that henceforth the engineering cell must identify the genuine project and to prepare an authentic detail project report or estimate.
The Power department has been asked to maintain proper office records, keeping proper blueprint and work details of all contractual works which falls under their jurisdiction.
The GREF officials were asked to focus on maintenance of Singtam to Rangrang road condition. Necessary direction was also given to take up immediate maintenance work in all trouble spots.
Likewise, the NHPC-V officials were directed to expedite the restoration work at Dikchu slide near Dikchu dam in coordination with GREF and Teesta Urja-III.
The minister called all officers and staffs to work in close coordination and come forward with innovative ideas for development of district and State as a whole in order take Sikkim into new height. Furthermore, he has assured to the house that he would place all the issues facing by the district before the State government.
During the meeting, all head of offices presented their departmental status, scheme and issues.