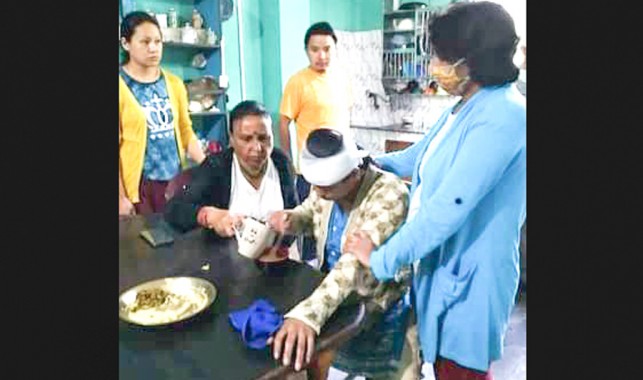 Sunday, Sep 20, 2020 11:00 [IST]
Last Update: Sunday, Sep 20, 2020 05:25 [IST]
Couple attacked in Tashiding, robbery suspected
KUSH HANG LEEWANG
GEYZING: A couple at Lasso under YuksamYashiding constituency was brutally attacked with an iron bar by an alleged burglar in the wee hours of Friday.
LaxmiPrasai Sharma and his wife Parmila Sharma suffered critical injuries in the attack, while the perpetrator of crime, KidraBhutia of Upper Lasso, has been arrested by Tashiding police with the help of the victims' neighbours. The accused has been slapped with attempt to murder charge under section 307 along with relevant sections such as 326/457/441/459 of the IPC. The case is under investigation.
As per the victims, the incident took place at around 3 am when they were fast asleep. The couple informed that the accused somehow managed to enter into the room they were sleeping in and beat them up with an iron bar. However, the couple was able to raise an alarm alerting the neighbours who came to their rescue. After nabbing the culprit, the neighbours informed Tashiding police and handed over him culprit to the police.
Both LaxmiPrasai and Pramila Sharma suffered major injuries on heads and other body parts. They were taken to Manipal central referral hospital inGangtokimmediately considering their conditions. It is informed that they are stable now.
The neighbours maintained that the accused might have trespassed the house with a motive of robbery.