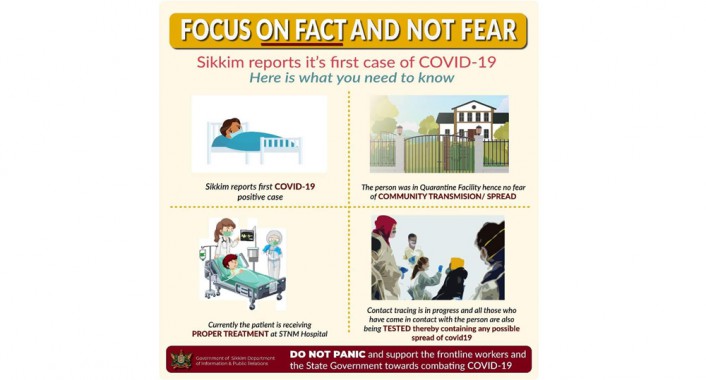 Friday, May 29, 2020 14:15 [IST]
Last Update: Friday, May 29, 2020 08:38 [IST]
Covid-19 and the STIGMA attached to this deadly Virus
IPR, SOUTH DISTRICT
The past few months has been nothing short of incalculable and uncertain as a global pandemic continues to see many countries under lockdown while the death toll continues to rise. While all of mankind including the Sikkimese populace resume to follow government guidance on best practices for personal hygiene and social distancing to keep the Novel Corona virus at bay, there is also a growing fear and trepidation about the spread of the virus as the state reported its 1st positive Corona virus case just a few days back.
Arguably, Sikkimese society is a relatively cultured society but with a new virus comes a reasonable fear that quite naturally raises apprehensions in the minds of the public. This very fear and anxiety leads to prejudices cropping up in our society against those who are infected and even those helping the infected. We are already familiar about several cases that were reported from across the country about discrimination faced by the health workers, infected persons and their families or anyone with even a sliver of connection to the disease. Similarly, heightened fear and misinformation about infection has also raised alarms amongst our people especially when the State Government is facilitating the return of stranded and distressed people back to the State. Another factor greatly responsible for provoking stigma amidst our communities are due to the false reports and inadequate forwards floating in social media and elsewhere. Additionally, due to the confusion and fear attached due to this stigma it can easily drive people to conceal their illness or even discuss symptoms instead of seeking medical aid to get tested for Covid-19 to avoid discrimination. We also have to come to terms that discrimination prompts anxiety, stress and mental trauma in people which is also a public health crisis which needs attention and intervention. As such, there is an urgent need to counter such prejudices and to rise as a community that is empowered with health literacy and responds appropriately in the face of this adversity.

With the State Government taking all measures to bring the stranded home and involving the State Health Machinery to do all they can to quarantine and contain the disease, it is also our primary responsibility as responsible citizens to share only authentic information possibly data present on website of Ministry of Health and Family Welfare, Government of India or the World Health Organisation. Chief Minister, Shri. P.STamang has also appealed to the people of Sikkim not to panic when the returning Sikkimese are housed in the quarantine facilities. The Department of Information and Public Relations is also doing its part as it has also been creating robust awareness through Information Education and Communication (IEC) mediums to gain the attention of the public to fight the stigma associated with Corona virus.
We also have to cross check any information related to Covid-19 from reliable sources before forwarding any messages on social media. Secondly, we need to move from the language of fear and paranoia to one of empathy. Having an attitude of gratitude towards the healthcare workers including doctors, nurses, healthcare professionals as well as sanitary workers and police who are all rendering their services tirelessly in this situation of crisis is the way forward. They deserve our support, praise and appreciation.
A vaccine or cure for Covid-19 may take time, until then we as a whole can channel our positivity and humanity to generate informed and empathetic response in this crisis. Social solidarity is the need of the hour. Together we can and together we will fight and overcome Corona.