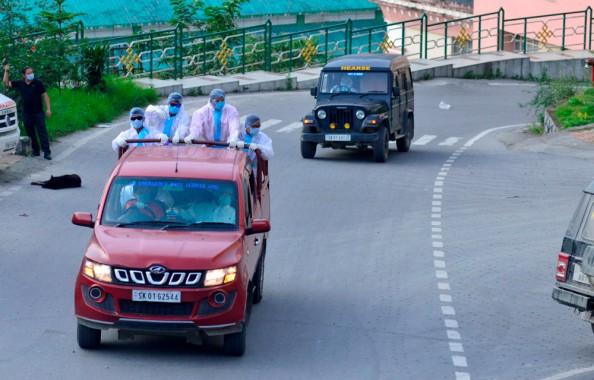 Tuesday, Nov 24, 2020 12:45 [IST]
Last Update: Tuesday, Nov 24, 2020 07:14 [IST]
Covid death toll hits 100 in Sikkim
SE Report
GANGTOK:The Covid-related causalities in Sikkim reached 100-mark on Monday with the death of an 89-year-old man from near Tamang Gumpa, Sichey in capital.
The death has been recorded as Covid death with comorbidities. The deceased had stroke and Parkinson's disease, informed Monday health bulletin.
The man was found Covid positive on RT-PCR on November 14 when he was admitted to the emergency ward of STNM Hospital with complaints of stroke.
Sikkim had reported its first Covid death on July 26 with the passing away of a 67-year-old person from Rongli at STNM Hospital.
Meanwhile, 14 fresh Covid positive cases were reported from the 48 samples tested on Sunday.
Five persons tested positive in east district, four in west district, one in south district and four in north district. The 5th Mile, Tadong area had the most cases with three persons testing positive.
There are presently 230 active cases with 4,320 recovering from the infection. Sikkim has so far recorded 4,736 Covid positive cases.
Meanwhile, the contact tracing team has not been able to trace one 28-year-old female who had tested positive for coronavirus recently and had gone for home isolation. The health bulletin has also revealed her name, Alina Subba, in an effort to trace her out.
"We are compelled to reveal her name as we have not been able to reach her. The number she had given to us is unavailable since many days," said State Health IEC officer Sonam G. Bhutia.
According to the health bulletin, Subba from Bojoghari had insisted to undergo home isolation at Sreebadam Bhasmey in West Sikkim. However, the officials in West Sikkim have not been able to trace her at the address given and could also not connect with her on phone.