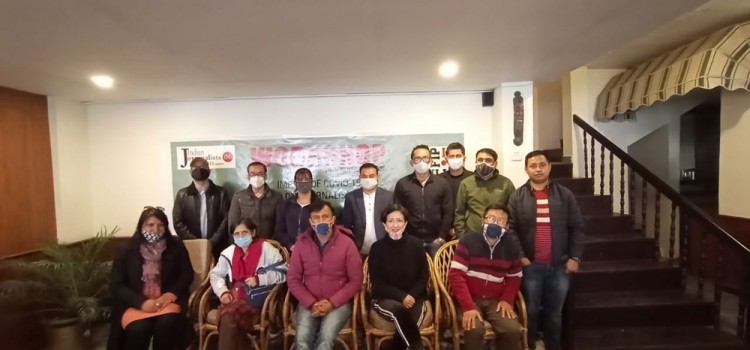 Tuesday, Nov 24, 2020 13:00 [IST]
Last Update: Tuesday, Nov 24, 2020 07:23 [IST]
Covid impact on media workshop held by JUS
SE Report
GANGTOK: A workshop on the impact of Covid-19 on media and crimes against journalists was organised by Journalists Union of Sikkim (JUS) with support from Indian Journalists Union at Gangtok on Monday. The workshop was attended by JUS members who are working in different print and digital media houses in the State.
JUS member Bijoy Gurung addressed the gathering on the given topic. He shared that journalists and media houses across the nation including Sikkim have been economically impacted due to the Covid pandemic and national lockdown. The recession could stay longer even post-pandemic causing stronger challenges for media houses and journalists to maintain their sustainability, he observed.
Gurung added that despite all the challenges, the journalists of Sikkim did responsible journalism throughout the pandemic period and were largely successful in serving the society with timely and correct information. At the same time, the journalists suffered many hardships and some of them lost their livelihoods due to closure of a couple of media houses, he said. He urged the JUS to extend support to those journalists who have lost their jobs due to the pandemic.
JUS president BhimRawat spoke about the objective for holding the workshop while coordinator DichenOngmu Bhutia shared details of the activities done by the JUS during the pandemic period.
JUS members PradeepLohagun, Kavita Sharma, Arpan Pradhan, SagarChettri, Nita Nirash, Parijat Sharma, ShekarKhawas and others shared their thoughts on the challenges faced while reporting during the lockdown and coronavirus period.
JUS member Bishal Gurung, who was infected with coronavirus earlier, shared his experience on overcoming the contagion and how he returned to the field of active journalism.
At the workshop, it was decided that the Covid-era experiences of the journalists in Sikkim would be documented and published in a booklet by the JUS. The responsibility was given to Bijoy Gurung and PradeepLohagun who would be supported by JUS president BhimRawat and general secretary Sujal Pradhan.