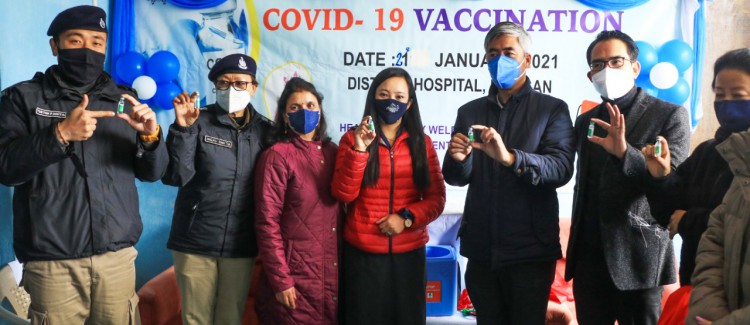 Friday, Jan 22, 2021 08:00 [IST]
Last Update: Friday, Jan 22, 2021 02:17 [IST]
Covid vaccine drive starts in North Sikkim
MANGAN,(IPR): The vaccination drive for Covid-19 commenced at the District Hospital, Mangan today. District Collector (North) Tenzing T. Kaleon supervised the commencement of the vaccine shots with assistance from CMO (North) Dr. Tempo Kaleon and the medical team of the district hospital.
AEFI support medical specialist from Singtam hospital Dr. Dwarika Niraula, representative from United Nations Development Programme Dr. Sashi Ghimirey, SP (North) Ongmu Bhutia and SDPO Tseten P. Bhutia were also present.
It may be mentioned that the DC (north) is also the chairperson of the District Task Force. He congratulated the district hospital team for the successful launching of Covishield vaccination and stated that the vaccination process would operate smoothly. He requested everyone not to indulge in fake news and misconceptions about the side effects of the vaccine.
DRCHO Dr. Tara Gautam provided a succinct briefing on the launch of the Vaccine. She said the District Hospital, Mangan has received 760 doses of the vaccine, in which 102 persons have been registered to be vaccinated on first day, i.e January 21 ; similarly another 100 persons are registered to be vaccinated on the second day, followed by 50 persons on the third day.
The vaccination will first be provided to the health workers, Aganwadi workers and Asha workers. She also stated that three teams have been formed for the drive, so that the vaccination process is carried out strategically, keeping in mind the guidelines laid down by the Government of India.
The three teams are AEFI team (Adverse Event Following Immunization), RRT (Rapid Response Team) and District Hospital Core Committee.
The first person in the district to receive the vaccine was Jeet Kumar Kami, a driver of the Health department, Mangan.
The vaccination drive will then move to Primary Health Centre, Dikchu.