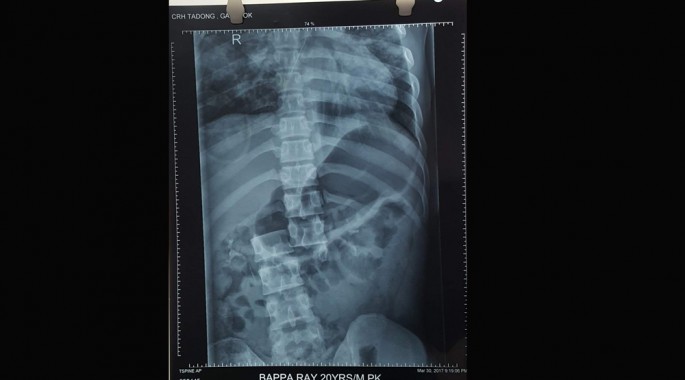 Tuesday, Nov 10, 2020 11:00 [IST]
Last Update: Tuesday, Nov 10, 2020 05:32 [IST]
CRH doctors perform complex spine surgery, shares miraculous recovery story
SE Report
GANGTOK: In yet another accomplishment, a team of surgeons from Department of Orthopedic, Central Referral Hospital (CRH) Manipal, Tadong here has successfully performed a complex spine surgery on a 20 years old male patient.
Professor Papa Naik H, head of orthopaedic surgery department has termed it a case of complex spine injury with miraculous recovery.
A month back a patient was brought to CRH who unfortunately fell from the second floor of building at a construction site and sustained fracture of ribs with hemopneumothorax and fracture dislocation of lower spine, a press release informs.
The patient was brought to the emergency department with severe pain in the lower back and chest with breathing difficulty and loss of movement below the level of spine injury, Prof. Naik shared.
Pre-operative and post-operative duration were uneventful. Following a post-operative wheelchair mobilization, the patient was discharged with assisted exercises of spine and lower limbs. The patient went back to his hometown for complete recovery and came for review after 18 months with normal active movement of hip and knee with normal bowel and bladder functions with partial recovery in ankle dorsiflexors.
Prof. Naik reports this asa miraculous recovery for this type of spine injury and
thanked his team members from Department of Orthopedic specifically Dr Ujjawal Pradhan, Dr Jowas and Anaesthesia team lead by Dr Meyong P. Bhutia and the OT staff for their dedication and untiring efforts.
Further, Prof. Naik shares his concern that the most common cause of spine injury in India is fall from the tree or building and now increasing with high speed two-wheeler accidents. Transportation of spine-injured patient to the hospital is also important process and many times in India, the patient develops cord damage while transporting them because of lack of awareness. Therefore, Prof. Naik specifies that trained people are required to transport the patients safely so that further damage of the cord can be prevented.
Prof. Naik confirms that CRH, Sikkim Manipal has an excellent team of surgeons, who can handle all types of spine injuries, and utmost care is taken to transport the patients in ambulance, the release mentions.