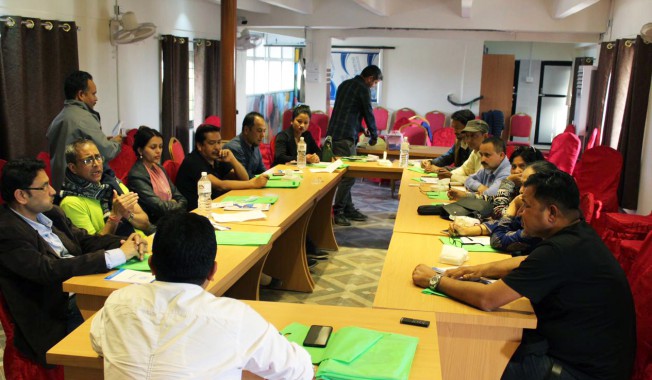 Tuesday, Feb 23, 2021 07:45 [IST]
Last Update: Tuesday, Feb 23, 2021 02:04 [IST]
Cross-border dialogue between India, Nepal journalists
PRASHANT ACHARYA
KAKARVITTA (Nepal),: Journalists from India and Nepal on Sunday attended a cross-border dialogue initiated by Human Right Journalists Association (HURJA), at Kakarvitta in East Nepal.
The workshop was organized with a collaborative effort to share valid information on border news between the media persons of India and Nepal.
Bimal Acharya, mayor of Nepal's Mechi municipality, highlighted the hurdles faced by travellers from both the nations due to lack of proper information. The issues on human elephant conflict have also created misconceptions between the people of both the nations, he said.
He appreciated the move taken by the journalists from India and Nepal which, he said, can help to solve minor disputes amicably without violence through correct information.
A senior journalist from Kathmandu, Namrata Sharma, in her presentation, highlighted the need of similar dialogue on regular intervals in both parts of the countries.
After the workshop, a group was formed to share valid information on border related news so that proper and authentic news could be made.
Journalists from both the nations also visited Mechi River, near Bahundangi village of East Nepal to get updated on human-elephant conflict issues.
HURJA president Ghanashyam Khadka said their mission and vision behind organising the dialogue is to form a group between both the nations and share information and lend support in times of difficulties.
Siliguri Journalist Club president Pramod Giri, Vivek Chhetri from Darjeeling Press Club, Bishnu Neopaney from Sikkim and other journalists from India participated in the workshop.