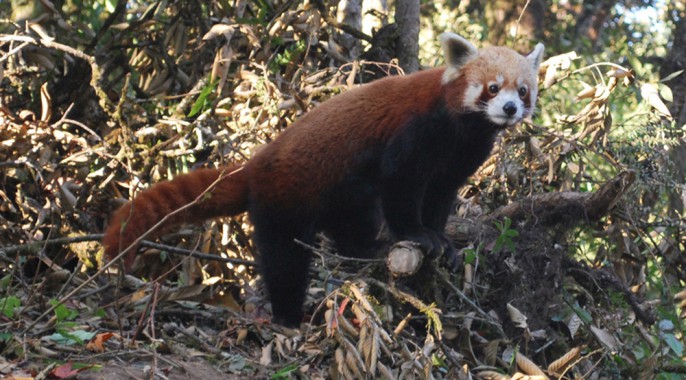 Saturday, Nov 21, 2020 13:30 [IST]
Last Update: Saturday, Nov 21, 2020 07:48 [IST]
Darjeeling zoo to release four captive-bred red pandas into the wild
Our Correspondent
DARJEELING: Four captive-bred red pandas of Padmaja Naidu Himalayan Zoological Park (PNHZP) would be released at Singalila National Park on November 26 as part of the zoo's conservation programme.
The PNHZP, popularly known as the Darjeeling zoo, had some months back identified four red pandas named as Ram, Shifu, Smile and Numa for the process of re-wilding and being released in the wild.
The red pandas will be released on November 26 at Gairibas which falls under the Singalila National Park, said Shiramoni Syangden, the PNHZP estate officer. This is basically a process of augmentation of the red pandas population in the wild, also known as re-stocking, he added.
The process of releasing them in the wild includes re-wilding which is acclimatisation of the animals for life in the wild. Sources maintained that the four red pandas have been given natural feed without any supplements and were kept mostly away from human touch and interactions.
The process of soft release will also be followed where the animals will first be acclimatized to the area where they are to be released. The animals will be monitored for possible disease outbreak, predators and feeding habits in the new environment.
The released red pandas will also be tagged with radio collars to track and monitor them before their finalrelease after a couple of months.
"We have already created a facility in Gairibas. We will have our staffs strictly supervising the movements of the animals," Syangden said.
Four captive-bred red pandas had been earlier released at the Singalila National Pak by the PNHZP between 2002 and 2004. One of them reportedly gave birth to an offspring.
Currently, the Darjeeling zoo has about twenty-three red pandas (12 females, 8 males and 3 unidentified) in captivity.
State Forest minister Rajib Banerjee will reach Gairibas on November 26 for the release of the red pandas.