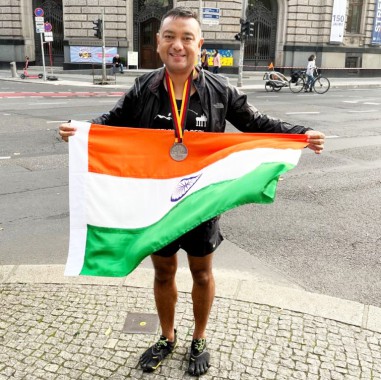 Tuesday, Sep 27, 2022 07:15 [IST]
Last Update: Tuesday, Sep 27, 2022 01:37 [IST]
Darjeeling's Vikram Rai completes Berlin Marathon
GANGTOK, : Vikram Rai, a long distance runner from Darjeeling, has successfully completed one of the four world marathon majors in Germany.
Rai clocked 4 hours and 17 minutes to complete the standard 42-kilometre distance at the 48th Berlin Marathon on Sunday that saw Kenya's Eliud Kipchoge, arguably the greatest marathon runner, shatter his own marathon world record.
"The experience has been an eye opener in ways more than one," said the founder of VikRun Foundation. "I got to see the discipline and dedication in the planning and organisation of a marathon."
Rai runs half barefoot on a special shoe called Vibrams. The barefoot run is inspired by Milind Soman who introduced Vikram to the gear. Soman preaches "that all humans used to run barefoot and the running shoes came much later."
Rai said he ran the marathon with a message "We are Gorkhas, proud to be Indians", which was inspired by the tagline from Kalimpong's 'Run with Roshni'.
Rai had received a last-minute sports visa courtesy of former Indian Foreign Secretary Harsh Vardhan Shringla. He also thanked Sikkim Chief Minister P.S. Golay and Gorkhaland Territorial Administration (GTA) chief executive Anit Thapa for their support.