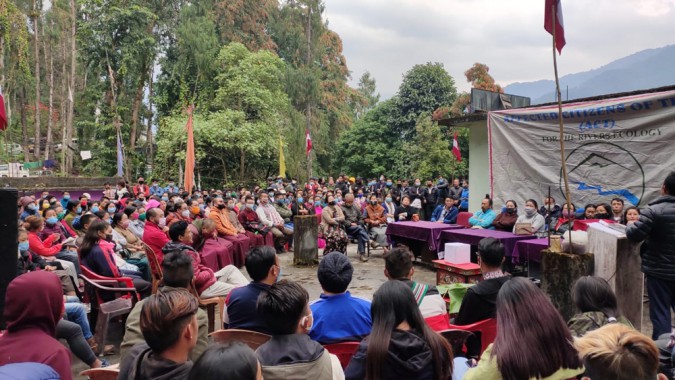 Sunday, Nov 22, 2020 13:30 [IST]
Last Update: Sunday, Nov 22, 2020 07:49 [IST]
Declare last free-flowing Teesta stretch as river sanctuary, ACT appeals Govt
SE Report
GANGTOK: The Affected Citizens of Teesta (ACT) on Saturday welcomed new members while reiterating its demand that there should be no power project dams in Dzongu. The members were welcomed with membership certificates during the meeting held at HeeGyathang, Upper Dzongu.
An ACT press release informs that around 500 people attended the meeting including the ACT members, students, youth, monks, ward panchayats and zillapanchayats of all eight GPUs in Dzongu. They were welcomed for the meeting by ACT president Sangdup Lepcha.
The NHPC Teesta-IV 520 Mw HEP is proposed in Dzongu over Teesta river which is strongly opposed by the local people. The proposed power project falls between Teesta-III 1200 Mw project upstream at Chungthang and Teesta-V 510 Mw project downstream at Dikchu.
ACT general secretary Gyatso Lepcha updated the gathering about the Teesta-IV project status and dialogues taking place with the State government to scrap the HEP.
"The meeting reiterated the ACT's demand to stop building any dam in Dzongu. The government was requested to declare the last 10 km stretch of free flowing Teesta as a river sanctuary which will be a more sensible approach towards the fragile ecology and people," said Lepcha.
At the meeting, the gathering was also asked to be prepared for any kind of future steps which could possibly happen if the Teesta-IV project implementation moves forward, said the ACT general secretary. The meeting also discussed about the talks with the new government on the issue and acknowledged that the response from the government has been positive so far, he said.
On the occasion, the ACT launched T-shirts with the message of 'Save Teesta'. The merchandise for sale would be used to generate funds to sustain the ACT movement, it was informed.