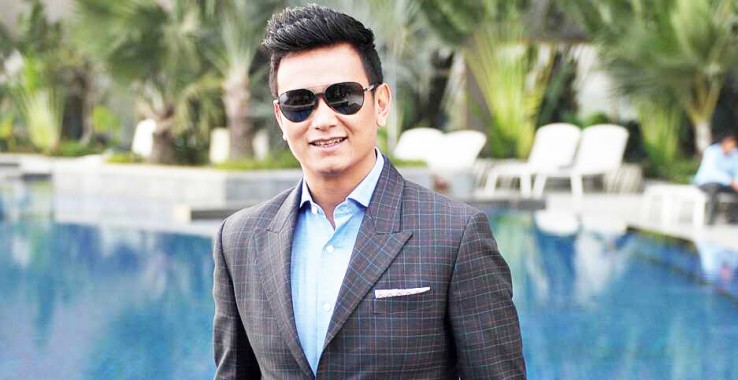 Sunday, Oct 10, 2021 14:30 [IST]
Last Update: Sunday, Oct 10, 2021 08:48 [IST]
"Delighted over Bhaichung Stadium's standard & inauguration"
BIJOY GURUNG
GANGTOK, : Indian football icon Bhaichung Bhutia has thanked Chief Minister P.S. Golay for fully completing the Namchi-located Bhaichung Stadium which is scheduled to be inaugurated on October 20 by Vice President M. Venkaiah Naidu.
"I am very happy that the Bhaichung Stadium is being inaugurated on October 20 by the Vice President of India. I thank Chief Minister P.S. Golay and the present government for fully completing the stadium after coming to power. I also thank former Chief Minister Pawan Chamling for naming the stadium after me," said Bhaichung to media here on Saturday.
Bhaichung mentioned that he shares a sentimental connection from childhood with the ground at Namchi. During my winter holidays, I used to come down from Tinkitam to stay in Namchi and play football there with senior footballers and I feel happy to see that the stadium is now complete after many years, he said.
The former footballer, now a politician, appealed that the Bhaichung Stadium should not be viewed from a political perspective. "It is not the stadium of Bhaichung Bhutia or any political party, it is for the people of Sikkim, especially the people of Namchi. More importantly, it will benefit the local footballers, sportspersons and children of Namchi and surrounding areas," he said.
Asked on the stadium's standard, Bhaichung mentioned that he had visited the stadium and found the standard to be excellent, especially the artificial turf laid at the stadium. It is also important to note that the artificial turf has got FIFA certification after inspection by experts, he said.
Bhaichung suggested that the stadium should allow access to children to play at the ground in morning and evening hours besides organising good tournaments. "Maintenance of the turf is important but at the same time, we must give access to children. I am happy that now the children and sportspersons of Namchi will get a good stadium for training and playing after many years," said Bhaichung.
Asked about international matches in Bhaichung Stadium, Bhaichung said: "I am not sure about international tournaments but we can host international football friendly matches at Bhaichung Stadium. In fact after the Sikkim earthquake, United Sikkim FC had tied up with other partners to bring retired international footballers like Rudd Gullit, Bollywood stars and rockstars (Scorpions lead guitarist) at Paljor Stadium. We can do the same in future."
"I cannot say currently but I have a dream in future to bring Cristiano Ronaldo or Lionel Messi after their retirement to Bhaichung Stadium. We will try our best efforts to bring them," said Bhaichung.