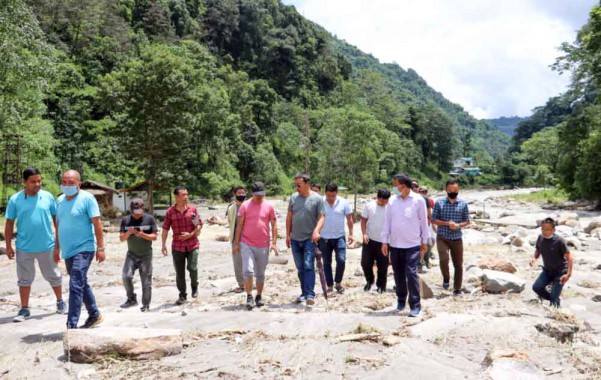 Saturday, Aug 08, 2020 14:00 [IST]
Last Update: Saturday, Aug 08, 2020 08:19 [IST]
Deputy Speaker inspects landslide-hit areas in Yuksam-Tashiding
PRITAM LAMA
YUKSAM: SLA deputy Speaker Sangay Lepcha, also the area MLA, today inspected landslide-affected villages in Yuksam-Tashiding constituency.
The area MLA first visited Rimbi where an amusement park and a public ground were completely washed away by the overflowing Rimbiriver on Thursday night. Lepcha said he will take up the redevelopment project for the park and the ground which hosts the annual RimbiMagheyMela.
After inspecting the Rimbi block, the MLA-led team then headed to Tingting village on the way to Yuksam where they took stock of the damages caused by a major landslide.
The landslide-hit people of Tingting village urged their MLA to resettle them at a safer place.
Landslide and flood along with incessant rainfall on evening of August 5 washed away a portion of land below the Tingting village and partially damaged two houses and put four other houses at risk, said ward panchayat-in-charge Nar Bahadur Limboo.
Multiple cracks are visible in the lower part of the village and more landslides are likely to follow.
The deputy Speaker assured all possible help to the affected people. He also directed the departments concerned to take up rehabilitation work and urged the respective departments to extend necessary support to the affected families.
"It is my responsibility to protect the life and property of the people," said the deputy Speaker.
Lepcha was accompanied by YuksamSDMTshering T. Bhutia, SKMCLC president Basant Tamang, SKM district coordinator Nandu Gurung, RDD engineers, Horticulture department officials, panchayats and others.
SDMTshering T. Bhutia said the two major rivers of Yuksam-Tashiding constituency, Rathong Chu and Rimbiriver, caused several damages in the constituency on Thursday night after rise in water level due to incessant rainfall.