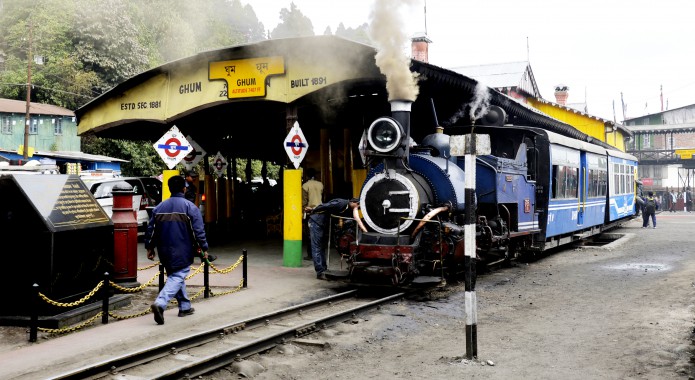 Wednesday, Oct 06, 2021 07:45 [IST]
Last Update: Wednesday, Oct 06, 2021 02:05 [IST]
DHR all set for 'Ghoom Festival' from Nov 13
GANGTOK,: Darjeeling Himalayan Railway (DHR) under Northeast Frontier Railway (NFR) is organizing a month-long 'Ghoom Festival' at Ghoom and other Darjeeling Railway stations. The festival will start from November 13 till December 5, informs a NFR release.
The festival aims to attract the pandemic-tired population of the entire country and the world, lift up the status of Darjeeling as a premium tourist destination and thus boost the earnings of Indian Railways through DHR, it was informed.
DHR is running numerous toy-train rides viz. Joyrides, Jungle-Tea Safari, New Jalpaiguri – Darjeeling passenger train and soon-to-be launched Red Panda.
Simultaneously, the fest will provide a huge platform for the artists, performers, craftsmen, engineers and workers in the district as well as Indian Railways to showcase their creativity to the world and increase their earnings.
The fest will run along three verticals, namely: culture, adventure and tourism. The cultural aspect included several events that will be hosted in the stations and the famous Chowrasta in Darjeeling such as folk dances, folk music, singing, music and dance performances, stand-up comedy, plays and talent shows.
Local performers as well as internal talents from Indian Railways are coming together to make it a reality. The cultural pillar will be a reflection of the ecstatic mood of the tourists in this festivity.
The adventurous aspect included early morning heritage walks to be organized every day, mountain biking and trackathon events to be hosted on weekends and specific days.
Organizations such as Darjeeling Walks, Vikrun Foundation, Mountain Biking Club of Darjeeling and Runners Club have partnered with DHR to host these events.
Local vendors/sellers and franchises will be provided spaces in Darjeeling and Ghoom Railway Stations to showcase handicrafts, art works, clothing etc. and sell food and drinks to the tourists for the entire month.
Several organizations that are integrated with the tourism industry are joining hands to make this festival a success include Darjeeling Kalimpong Himalayan Tourism Association, Darjeeling Hotel Owner Association, Darjeeling Homestay Association, Darjeeling Hill Runners Association, the release mentions.