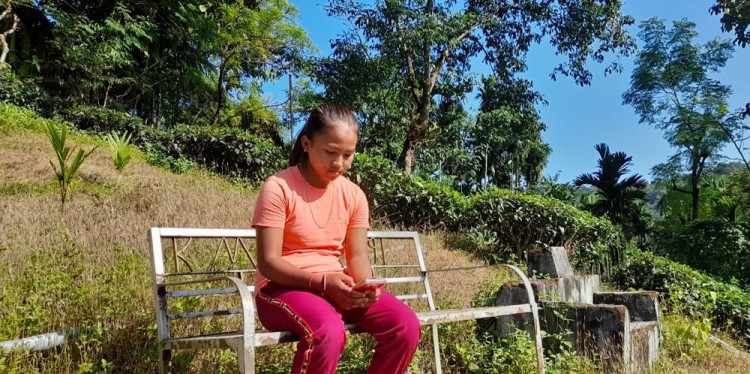 Tuesday, Nov 10, 2020 11:15 [IST]
Last Update: Tuesday, Nov 10, 2020 05:45 [IST]
Digital world still distant for Mirik students
PRASHANTACHARYA
POTONG (Mirik): Several villages and tea gardens in Mirik region still do not have access to internet even as the Union government is putting efforts towards 'Digital India' dream.
Villagers of Khapril, Potong, NoleDanra and Tingling, all under Mirik block of Gorkhaland Territorial Administration (GTA), are facing internet connectivity problem as the broadband penetration in these villages is limited.Official works of tea gardens and online classes for students here are hampered due to lack of internet reach.
The students have to trek uphill to get into network coverage and then attend the online classes. Internet network is near zero inside theirhouses, especially during bad weather conditions.
Dipsang Tamang, a class IX student of private school in Mirik said, "It becomes very difficult to attend the online classes here. It takes time to get network in the hills. The network is found at a particular point in hills and it does not happen all the time."
Manohar Tamang, secretary of Potong Tea Workers Welfare Committee, informed that they have to travel around 5 km to reachPanighattaand send emails to the concerned offices due to poor network in their region.
MahendraMoktan, headmaster of Potong Higher Secondary School, said the government's instruction to conduct online classes for senior students is becoming difficult due to a poor network. Only a few students attend the classes and we ask others to be present physically to submit their assignments, he said.
School teacher Pranam Tamang highlighted another practical fact that only 30 percent of the student's guardians have smartphones and rest cannot afford the same due to the financial crisis as they have to depend only on the mere wages given by the committee.
After immense pressure put on the local administration regarding poor internet connectivity, a private company has shown interest in installing a mobile network tower in the area and the work is going on. Till the mobile tower is installed, people of these villages have to struggle to connect with the digital world.