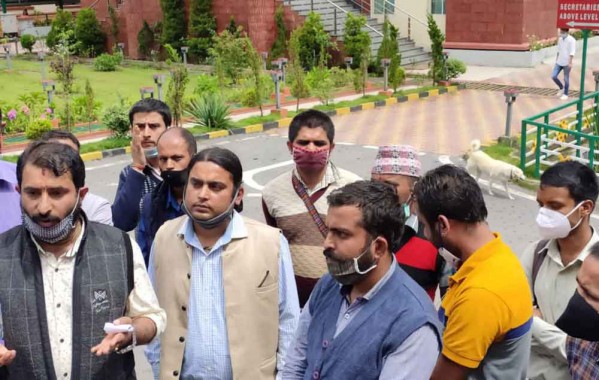 Tuesday, Jun 30, 2020 12:30 [IST]
Last Update: Tuesday, Jun 30, 2020 06:58 [IST]
Discharged Sanskrit teachers demand order withdrawal, to launch stir
KUNAL RAI
GANGTOK: The Sanskrit teachers discharged from their services by the State Education department today met the department officials and demanded that the decision be revoked.
Terming service discontinuation as injustice to the 124 Sanskrit teachers, a group of Sanskrit teachers met the Education director and sought to know what led to the decision.
Khagendra Khanal, a Sanskrit teacher, said the group had come to the Education department to know the actual reason behind the teachers being discharged. "We were informed that the decision of discharging us from our service was taken as per the cabinet decision. We are now aware that our services have been terminated from the government itself which we feel is injustice towards us. We demand the department and the government to roll back the order at the earliest and avail justice to us. We hoped of getting adequate benefit from the State government as per the Chief Minister's assurance but instead we have been discharged. We will wait for a day or too with a hope of any solution to our grievances and if nothing turns out positive then we will launch a protest," said Khanal.
Appointed some nine months ago in secondary and senior secondary schools, the 124 Sanskrit teachers were discharged from service vide an order on June 26 which cited clause 4 of the appointment order for dismissal from service.
According to the aggrieved teachers, they were appointed last year without any recruitment norms and the teachers joined their duties as assigned. They were scheduled to be paid monthly salary of Rs.8,000 from the Rashtriya Sanskrit Sansthan fund while the Chief Minister had assured to add another Rs.10,000 per month as honorarium to the Sanskrit teachers.
"We have never asked or approached the department for our salaries and have been conducting online classes even during the lockdown period.We hardly took any leave and even taught other subjects in need too. But the order has shattered our dreams and service to our students and has made us unemployed again," expressed Khanal, adding that another team of teachers were trying to meet the Chief Minister with their grievances.