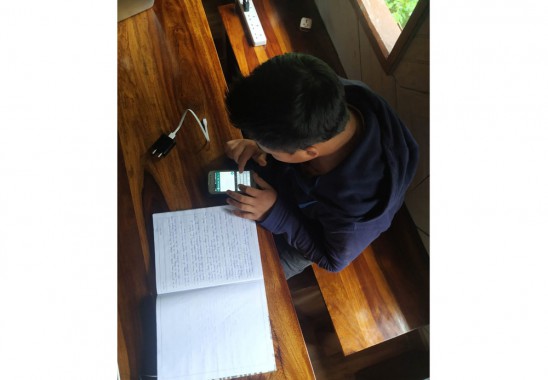 Tuesday, Sep 29, 2020 10:00 [IST]
Last Update: Tuesday, Sep 29, 2020 04:32 [IST]
'Donate Your Old Phones' to help students learn online
DICHENONGMU
GANGTOK:ManusatavaCommunity Organisation, a Kalimpong-based NGO has started a new interesting initiative of DYOP which is 'Donate Your Old Phones', where they will be collecting unused old smartphones and distribute it to the needy kids especially for online classes.
Organisation founder SiddarthBhitrikoty shared how the realisation struck them when the online classes have taken a toll on the students."We have seen people storing their old mobile phones eventually adding to the landfill as e-waste. Covid has not left anyone from various industries including education system where school doors have been shut for many months now. The introduction of online classes has become fancy for some but not everywhere where students from the hilly areas are still struggling to cope up with the newly introduced learning system due to lack of smart phones or laptops," he lamented.
Hence the community organisation thought that the initiative will help tackle the e-waste along with the primary intention to help the needy students of Kalimpong and Darjeeling for now, Siddharth added.
Asked how will they monitor the students whether they are actually using the cellphone for good reasons, Siddharth replied, "We have strictly instructed the parents to allow phone usage only for their online classes and once done the kids give back the phones to their parents."
The organisation doesn'tplan of taking back the phones even if the situation normalises in future, as they feel it might come handy in the long run.
The initiative kick started on September 24 through their social media handles and have received two cell-phones so far.People willing to help can hand over their old working condition phones to Manusatava. They can contact at 8904648451 or send a message on Facebook or Instagram at Manusatava.
Manusatava- Humanity Still Exists was formed in 2017 by techie Siddharth Bhitrikoty. Since then the organisation have been actively helping the society through their unique awareness campaigns - Jog &Plog,distributed relief materials in villages to around 540 daily wage worker families.
It also aims in adapting waste management techniques and creating awareness on menstrual hygiene.