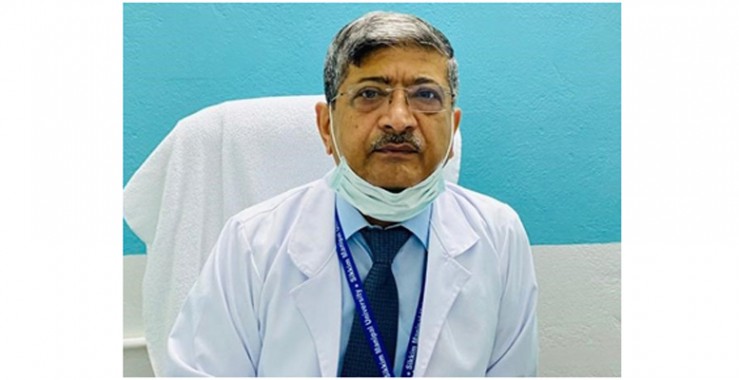 Friday, May 22, 2020 13:15 [IST]
Last Update: Friday, May 22, 2020 07:41 [IST]
Dr.Bhim Prasad Dhakal joins SMIMS as associate professor
SE Report
GANGTOK: Renowned ophthalmologist from Sikkim,Dr.Bhim Prasad Dhakal, MD (Ophthalmology), has recently joined Sikkim Manipal Institute of Medial Sciences (SMIMS) and Central Referral Hospital (CRH) as Associate Professor, Department of Ophthalmology, a press release informs.
Dr.Dhakal has rendered 34 long years of service to the government of Sikkim since 1985 in various capacities as Medical Officer, District Immunization officer, Sr. Ophthalmologist, Consultant- cum- State Program Officer of National Programme for Control of Blindness, Consultant, Disability Cell, Health department.
He has played pioneering role in developing infrastructure, skilled human resources and up-gradation of Eye Health Care Services at STNM Hospital, as well as all four district hospitals and their respective PHCs as an ophthalmologist in various capacity since June 1994.
Dr.Dhakal retired from government service in November 2019 after attaining superannuation as Principal Chief Consultant, (Ophthalmology), STNM Hospital.
During his career as ophthalmologist, Dr.Dhakalhas worked in the field of patients' care in STNM Hospital as well as for implementation of National Programme for Control of Blindness by holding several eye camps. He has played leading role in the formation of Sikkim Ophthalmological Society and presently functioning as its president. He is a Life Member of All India Ophthalmological Society (AIOS), Indian Medical Association and also the Eastern India Zonal Ophthalmological Congress (EIZOC).
Dr.Dhakal has been utilizing his leisure time in social works for the welfare of Person With Disability (PWDs) in general and cerebral palsy, mental retardation, autism and multiple disability in particular for more than two decades as the founder general secretary of the Spastic Society of Sikkim. He is deeply involved in the management of Special Education and Rehabilitation Centre (SERC) since July,1997.
His dedicated and pioneering works in the field of ophthalmology and the Spastic Society of Sikkim has also been recognized by the Government of Sikkim by conferring the State Meritorious Service Award on 26th January, 2012. He has also received Luminary Award of EIZOC, 2018.
Dr.Dhakal will be available for consultation at Department of Ophthalmology, Central Referral Hospital, informs the release.