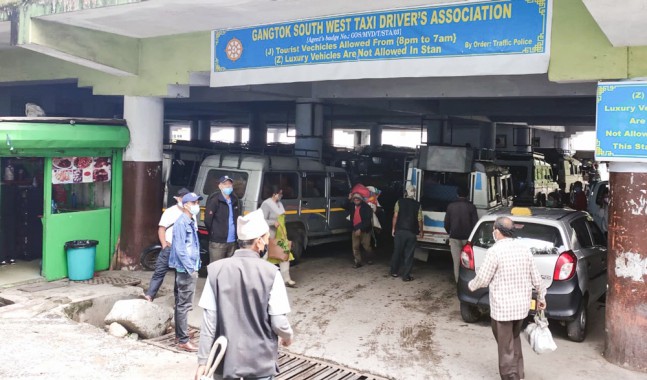 Tuesday, May 19, 2020 13:30 [IST]
Last Update: Tuesday, May 19, 2020 07:56 [IST]
Drivers hail inter-district movement nod for taxis
KUNAL RAI
GANGTOK: The State government's decision to allow inter-district movement of taxis in a staggered manner has brought a major relief for taxi operators in the State.
Hailing the relaxation on operation of taxis, the Gangtok South West Taxi Drivers Association on Monday resumed operation of taxis between Gangtok and different places of South and West districts.
Association general secretary Prem Tamang said the decision has given relief to the taxi operators during the fourth phase of the coronavirus-induced lockdown. "We have been following the standards laid for operation of taxis like prescribed number of passengers maintaining social distance, sanitation and odd-even number system. The drivers have been strictly advised to wear masks and keep hand sanitizers. Also passengers have been asked to compulsorily wear face masks while boarding the taxis. Those not able to afford the cost of masks are being given free of cost," he said.
At least 70 mainline taxis are registered to operate between Gangtok and several destinations in south and west districts on a daily basis.
According to Tamang, many taxi drivers were today confused on the relaxation during the fourth phase of lockdown as the official notification from the State government was yet to reach them. He added that those odd-numbered taxis that operated today were following the earlier rule and assured that the new odd-even system would now be followed as per the revised order.
The association has further requested the State government to allow resumption of taxi booking counters for the convenience of the passengers wanting to book tickets for their return journeys to the districts.
"Without the booking counter, it has been difficult for people to get and book tickets for their respective destinations. If allowed to operate, we will follow all norms and guide the passengers too," said Tamang.
Commenting on the transport relaxations for all types of vehicles, State Transport minister Sanjeet Kharel said the SNT buses will also be operational and be checked at different places to ensure social distancing is maintained and all other SOPs are followed properly while ferrying people within the State only.