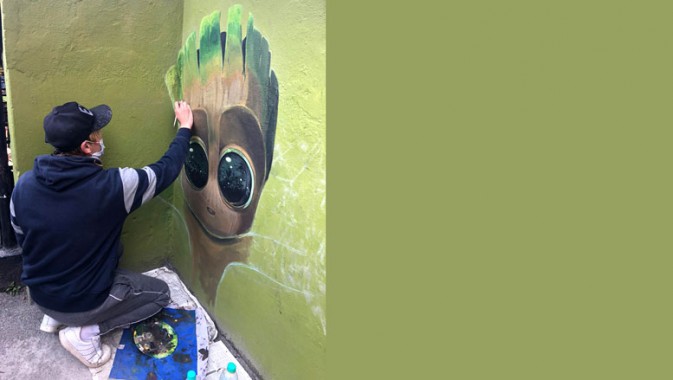 Tuesday, Jan 14, 2020 11:30 [IST]
Last Update: Tuesday, Jan 14, 2020 05:38 [IST]
Duo take up art to clean, adorn Gangtok walls
BIJOY GURUNG
GANGTOK: Two Gangtok youths have taken up paint brush, colours and love for their hometown to clean and embellish the public walls in the State capital with their creative artworks.
Since Saturday, Chogyal Lama and Pralad Biswakarma have set up their colour palette near the Titanic Park flyover and are engaged in beautifying the public walls. Lama, 23, is applying finishing touches to the Marvel character 'Groot' in green and brown colours while Biswakarma, 22, is bringing alive a character from his own imagination.
But before they wielded their brushes, they had to broom out the dirt and pan stains from the walls.
"Now this wall is looking good, earlier someone had spit pan on it. Public walls are left dirty as people spit pan and gutka and these dirty walls give a wrong impression of our Gangtok. As artists, we thought of making the walls clean and attractive through our art," said the duo. They are also focussing on contemporary creations like the 'Groot' artwork so that the children and youths are easily attracted and to some degree, influenced by the motive behind wall painting.
"We are thinking of carrying our work at other places also like the Hospital Dara flyover or wherever we get permission. If we get some fund support, we plan to do most of the public walls. We need some funds for buying colours which are costly, the most appropriate tool would be spray paint but that is expensive," said the two artists.