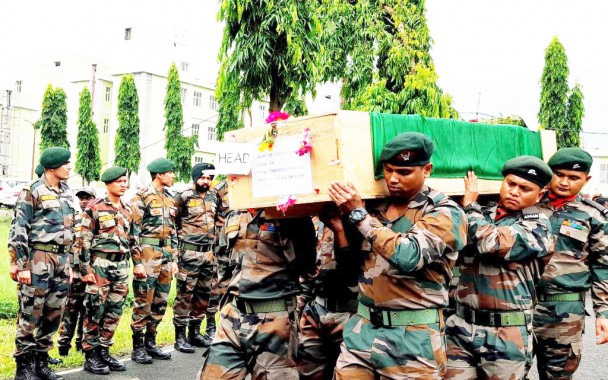 Sunday, Jul 03, 2022 09:00 [IST]
Last Update: Sunday, Jul 03, 2022 03:20 [IST]
Dzongu braveheart returns home wrapped in National flag
Army extends full military honours to 11 Gorkha Rifles personnel from Sikkim & North Bengal
BAGDOGRA/GANGTOK,: The mortal remains of Late Nk. Tshering Lepcha of Sikkim and 10 other soldiers of Gorkha Rifles from North Bengal were brought to Bagdogra and given full military honours at the Army 158 Base Hospital, at Bagdogra on Saturday.
Eleven Army personnel were among those who lost their lives when a massive landslide washed away their camp in Noney district of Manipur Tuesday morning. Several Army personnel and Railway workers are feared missing in the calamity.
Dzongu MLA Pintso Namgyal Lepcha, family members and residents of Upper Dzongu were present at Bagdogra to receive the body of Late Tshering. His body was taken to his native village of Ruklu Kayem, Lingdem in Upper Dzongu with a military escort.
People lined up at various points of the route to offer their tributes to the late Army man of Dzongu.
Late Tshering leaves behind his wife and a 17-month-old girl child.
"It is a big tragedy. It is really unfortunate to lose a youth who was serving the nation coming from a remote place like Dzongu. We offer our heartfelt condolences to the bereaved family and pray for eternal peace to the departed soul," said the Dzongu MLA.
Pintso Namgyal added that late Tshering and other soldiers claimed by the landslide gave their lives while on duty to protect the nation. They gave their lives while serving the nation and though we all are sad, we salute their bravery and felt proud to see the Army giving full military honours to these brave hearts, he said.
The soldiers whose bodies were brought to Bagdogra today were Sub. Sita Ram Rai of Rangbul (Darjeeling), Hav. Milan Tamang of Rohini (Kurseong), Nk. Diwakar Thapa of Chongthung (Darjeeling), Lnk. Bishal Chettri of Murmah (Mirik) and Rfn. Shankar Chettri of Banarhaat (Jalpaiguri), Rfn. Benjamin Rai of Teesta Valley (Kalimpong), Rfn. Marcus Gurung of Singmari (Darjeeling), Rfn. Ladup Tamang of Nagari, Lnk. Bhupen Rai of Happy Valley (Darjeeling) and Hav. Bedhyan Rai of Gauri Shankar Tea Estate (Kurseong).
The mortal remains were brought in two shifts by an Indian Air Force plane at Bagdogra airport and later taken to 158 Base Hospital where large numbers of people including parents, family members and others were present to pay homage to the braveheart soldiers.
GOC Trishakti Corps Lt Gen Tarun Kumar Aich, GOC Bengdubi 111 Sub Area Satindra Singh and other officers laid wreaths on behalf of COAS and GOC-in-C.
Officials from Darjeeling district administration, police officers, newly elected GTA member Anit Thapa, BJP MLAs Neeraj Zimba and B.P. Bajgain, Darjeeling District TMC president Papiya Ghosh, ex-Armymen and others paid homage to the braveheart soldiers.
The Gorkha Rifles soldiers belonged to the Territorial Army's 107th battalion and had been stationed near a railway station to protect construction workers as they built the Jiribam-Imphal line.
So far 25 bodies have been recovered - 18 Territorial Army soldiers and six civilians - and 18 people are injured. Emergency services personnel resumed work this morning with 12 soldiers and 26 civilians still missing.