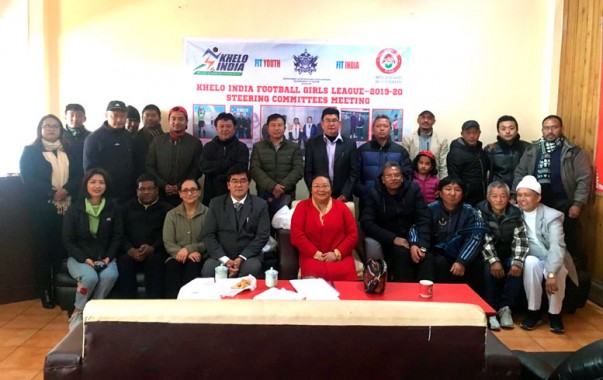 Saturday, Feb 08, 2020 13:15 [IST]
Last Update: Saturday, Feb 08, 2020 07:42 [IST]
East steering committee formed for Khelo India Girls Football League
DICHEN ONGMU
GANGTOK: The east district steering committee for Khelo India Girls Football League 2019-2020 Sikkim leg was formed today.
Retired teacher and football administrator Chung Chung Bhutia was appointed as the chairperson of the east district steering committee and Sikkim Himalayan SC founder Tenzing Lamtha as the co-chairperson.
Addressing the steering committee meeting at Paljor Stadium today, Chung Chung Bhutia said Khelo India Girls Football League is a golden opportunity for girls to showcase their football talents.
"Through this championship, we will be able to tap talents from the grassroots. Sikkimese girls are doing well in other fields but not much in football so far, therefore this will be a good platform for them," said Bhutia.
She also appealed all the parents and school heads to cooperate during the league and extend their support to the children and committee by encouraging them to participate.
Tenzing Lamtha said there is a good scope for girls in football and assured his full support. He lauded Sikkim Football Association for promoting football in the State and also thanked SKM government and Sports department for proactively extending their support and bringing in a positive environment in the field of Sports.
Sports joint director R.B. Biswakarma, the nodal officer for the league, informed that the clubs who have adopted the respective schools must register the teams and players by February 28. The league will kick-off tentatively on March 21.