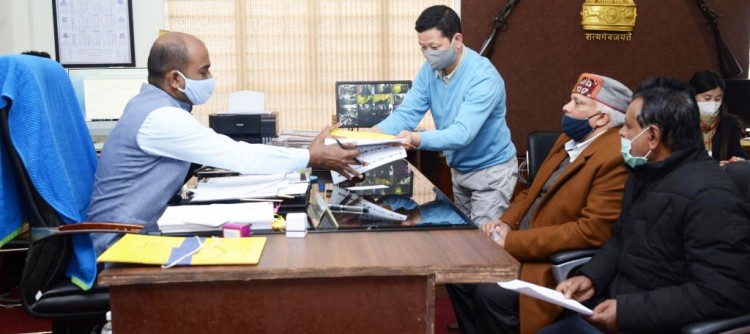 Wednesday, Mar 03, 2021 08:15 [IST]
Last Update: Wednesday, Mar 03, 2021 02:37 [IST]
Eight nominations for three civic bodies of East Sikkim
GANGTOK,: Eight candidates on Tuesday filed their nominations for the three civic bodies in East Sikkim. They submitted their papers to MERO (east) Ragul K. at his office here in DAC (east), Sichey.
An IPR release informs that Lakpa Sherpa and Kunga Bhutia filed their nominations for Lower M.G. Marg-Lall Bazaar ward of Gangtok Municipal Corporation (GMC).
Sonam Pintso Bhutia and Tsewang Rinzing Bhutia have filed their nominations for Tadong ward while Norbu Tamang has filed his nomination for Panihouse ward of GMC. Prahlad Agarwal has filed his nomination for Upper M.G Marg ward.
Rajani Singh Cintury has filed her nomination for Pipal Dara ward under Singtam Nagar Panchayat and Sunita Sharma for Mining ward under Rangpo Nagar Panchayat.
Municipal elections are taking place in a non-political party system wherein no candidate can be supported or fielded by the political parties.
Speaking with SIKKIM EXPRESS, Lakpa Sherpa (59) welcomed the State government's decision to have an apolitical civic body polls wherein people are at liberty to contest or support independent candidates. People will choose those who can work for them as their elected representative, he said.
Let there be no animosity as the government has this time made a system where anyone can contest without any political pressure, said Sherpa. There are many problems in Lower M.G. Marg ward and whoever wins should work with the government to address this issue, he said.
Norbu Tamang, 58 years, submitted his nomination papers for Pani House, a newly added ward in GMC.
"I am contesting any kind of election for the first time and it is a learning experience for me. There are many areas that need focus for development of Pani House ward," said Tamang.
If I am elected, my first work would be to decongest the drainage system in Pani House ward and the sewerage system also needs an overhaul, said Tamang. There are also other civic issues which would be taken up in a phased manner in consultation with the local people, said Tamang.
Prahlad Agarwal, 55 years, filed his nomination for the Upper M.G. Marg ward.
I have decided to contest the elections with an aim to serve the society in a larger manner, he said. There are many issues in Upper M.G. Marg area and I would to work on such issues, he said. If elected, I would take up a cleanliness drive of the backside of M.G. Marg, beautification of the ward, add more tourism attractions and create employment opportunities, he said.