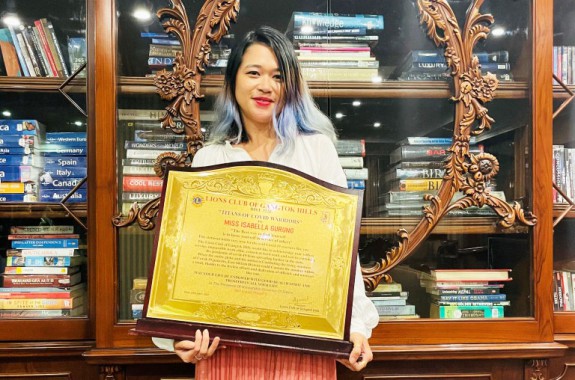 Saturday, Sep 25, 2021 08:00 [IST]
Last Update: Saturday, Sep 25, 2021 02:20 [IST]
Eleven felicitated as 'Titans of Covid Warriors'
GANGTOK, : Lions Club of Gangtok Hills District 322F felicitated eleven individuals from different professional fields for their selfless contribution during the Covid pandemic in Sikkim. The felicitation was done as a mark of respect towards the Covid warriors and social organisations who came forward to help those affected by coronavirus and lockdown.
Governor Ganga Prasad was the chief guest for the felicitation programme 'Titans of Covid Warriors' held on Thursday evening here.
The felicitated were Isabella Gurung (Sikkim Express staff reporter), nurse Pranu Chettri, Dr. Yudok Bhutia, ambulance driver Amar Tamang, Safai Karmachari Dorjee Tamang, deputy director (district disaster management authority) Sonam Wangyal Lepcha, Tenzing Loday Bhutia (Sikkim Police), Raj Kumar Rai (Sikkim Police), Purna Kumari Gurung (Safai Karmachari), Sanjay Tamang (GMC worker) and Service to Mankind (social services).
In his address, the Governor congratulated the awardees for their dedication and service during the times of the lockdown and pandemic at large.
"The Covid heroes have worked hard for the betterment of the society during the hardest times. Such heroes should be celebrated," said Prasad.
Also congratulating the organisers, the Governor urged them to conduct more similar events, especially in the rural areas of Sikkim so that people can be motivated to do more.
The Governor also spoke on the importance of organ donation and called for a nationwide movement on organ donation. He urged people to come forward to generate awareness for the cause and during their moment of grief, as a gesture of humanity.
Regarding the demands put forth by the club to open an eye bank here, Prasad expressed to initiate an establishment of Eye Bank in Sikkim.
"I want my fellow Sikkimese to join this noble initiative. I believe that organ donation and especially eye donation is the biggest human service that an individual can understand in life. I always encourage people to donate eye organs after death. By donating an eye, we not only light up the life of a visually challenged person but also give a new life and continue to live through the recipient's eye. Eye donation or organ donation is a great service," said the Governor.
He appealed to the people of Sikkim and social organisations to come forward and pledge their eyes for donation after death and participate in the noble deed of giving the gift of sight to a needy.
Lions club president Sanjay Agarwal informed that the club has been conducting various social events for many years and among their permanent projects is the eye bank in Sikkim.
Highlighting the brief history of the club, it was mentioned that among the 135 clubs, Sikkim has four clubs.
The programme was also attended by the GMC Mayor, the Deputy Mayor, commissioners and invited guests.