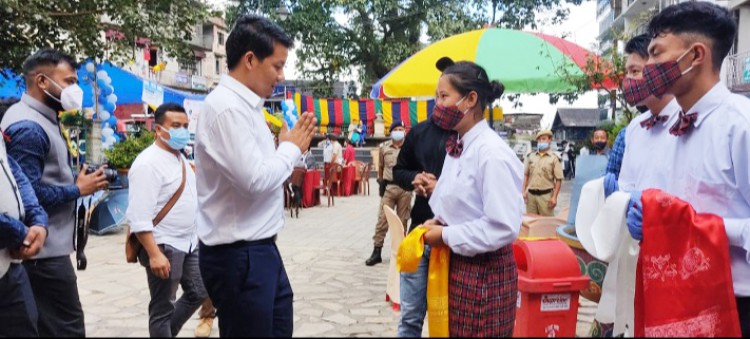 Friday, Oct 08, 2021 22:00 [IST]
Last Update: Friday, Oct 08, 2021 16:23 [IST]
Entrepreneurial leadership programme launched for West Sikkim students
KUSH HANG LEEWANG
GEYZING,: An entrepreneurial leadership programme, a joint initiative of the west district administration and Ashank Desai Centre for Leadership and Organizational Development (ADCLOD), for the students of west district was launched Friday at an event held at the conference hall of Zilla Panchayat Bhawan here.
The event was attended by Lok Sabha MP Indra Hang Subba as the chief guest along with ADC (west) A. Rohan Ramesh, ADCLOD vice president Piyush Sharma, students and others.
During the programme, the students were informed about the self-employment opportunities through entrepreneurial initiatives in various non-governmental sectors.  
MP Indra Hang Subba, in his brief address, said the present generation is facing unemployment issue as the government sector is going through the phase of saturation owing to overwhelming human resource employed in government sector. He opined that entrepreneurial programme being initiated today for the students should address the unemployment woes in near future.
"People in this era of opportunity should not explore employment opportunity in the government sector but they should be an employer and such opportunity is possible through entrepreneurial ventures," said Indra Hang. He further informed that the government-provided facilities were available for the people opting for self-entrepreneurship ventures in various sectors.
The MP mentioned that in order to promote and patronize the culture of entrepreneurship, the entrepreneurial programme was introduced for the students to endorse entrepreneurship amongst the students from tender age.
Speaking on availability of talents and opportunities in Sikkim, Indra Hang said, "There is no dearth of talents in Sikkim but we lack willpower to enter into any entrepreneurial ventures out of fear of failures. Now the new generation should have an urgent transition from employment seeking generation to the generation that provides employment to others."
Resource person Piyush Sharma informed that the aim behind the programme was to promote, endorse and sensitize the students on various aspects of entrepreneurship and its benefits. He encouraged the students to be the part of entrepreneurial ventures through initiation of projects from an early age. He added that this training could help them in future to become entrepreneur thus creating the means of livelihood not only for themselves but other as well.
Sharma said Sikkim, having abundant natural resources, has the potential to embrace and grow as an entrepreneurial hub in various fields. He added that entrepreneurship, if taken up in a constructive way, could change the future of Sikkim.
Sharma shared that training on entrepreneurial programmes would be conducted on both virtual and practical mode adding that the State government would have an active participation and provide necessary support.
ADC A. Rohan Ramesh highlighted the mission and plans of the programme.