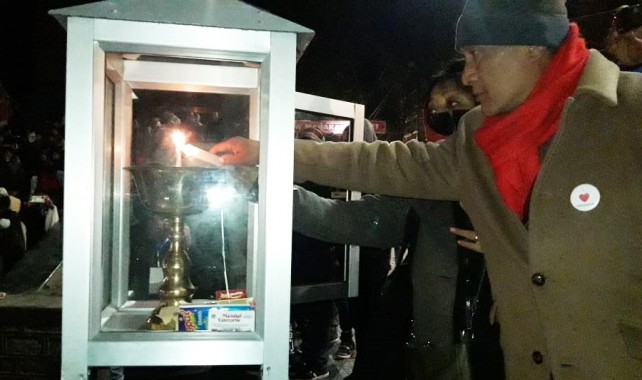 Friday, Jan 01, 2021 07:30 [IST]
Last Update: Friday, Jan 01, 2021 02:01 [IST]
Eternal flame and prayer from Darjeeling for world during this pandemic
DARJEELING,: A 'chimi' (Buddhist lamp) will be seen burning continuously at Chowrasta, a popular promenade here, for some months with a prayer for the world in times of this Covid pandemic.
The initiative is taken by the recently-formed Siddhant Memorial Trust (SMT) which also organized a music-filled programme at Chowrasta today to garner funds for kidney patients.
"The chimi represents an eternal flame and is a prayer from Darjeeling for the world during this period of pandemic. It will keep burning until things are somewhat normal and hill schools resume. The butter lamp might burn for six to seven months and we appeal to all here to put some oil in it while passing this area so it keeps burning," said Palzor Tshering Bhutia, advisory member of SMT. He added that through this they also wanted to say goodbye to 2020 and welcome the New year with a message of hope, love and happiness.
The 3x3 inch butter lamp was donated by Phinzo Gurung in memory of his late parents Tshwang Doma Bhutia and Uttam Gurung who hail from Darjeeling. According to the organizers, they have also received permission from the Gorkhaland Territorial Administration to house the 'chimi' at the open air theatre in Chowrasta.
"The lamp being lit is also a prayer for those who had to face hardship during the pandemic and those who have lost their lives," said Gurung.
Speaking on the musical event today, Bhutia said, "This was done in aid of two kidney patients from Darjeeling with the treatment proving to be expensive for them. We had earlier also collected funds for them through playing music on the streets."
Among the two kidney patients for whom the funds were being collected was Uttam Pradhan who expired today. The other patient, Dhiren Lama, is undergoing treatment.
The musical programme at Chowrsta started in the afternoon and went right up till late at night. It featured performances from different local bands and singers.
The SMT was formed for social activities along with promoting sports, music along with art and culture.