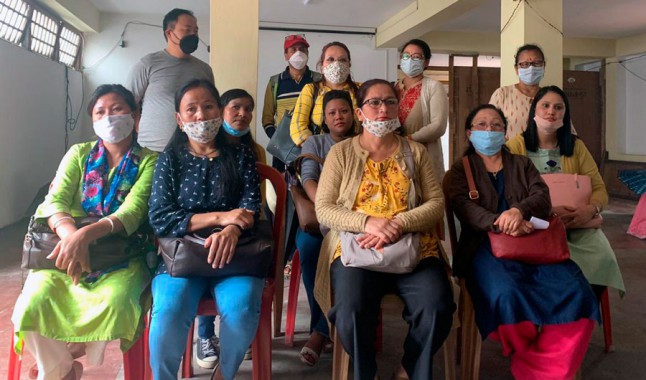 Sunday, Jul 12, 2020 10:15 [IST]
Last Update: Sunday, Jul 12, 2020 04:37 [IST]
Expelled Hathway workers demand compensation
SWEEKRITI RAI
GANGTOK: Former employees of Gangtok-based cable TV and Internet Service Provider (ISP) Hathway have cried foul over termination from job by the company on the pretext of being 'incompetent.'
Stating that their termination was unjust and arbitrary, the aggrieved seven employees, who worked as bill collectors, today said they were made to sign the termination letter under duress.
"We have given sweat and blood for the company and need to be compensated," said the workers demanding a severance pay of Rs.5 lakh for their well-being. Some of the expelled workers have been working in the cable TV and ISP sector for over two decades and were inducted in the new company when it took over the business a year ago.
Leela Lama, a senior bill collector working since 18 years, said, "We have laid the foundation of this company, given our blood, sweat and tears and seen it grow and this sudden termination will not be accepted". She claimed that the company is planning to lay-off seven employees each month for lacking proficiency adding that such grounds for termination is unfair.
Komal Chettri, another employee, said, "We work for Rs. 10,000 per month even on Sundays. Some of us are single parents and we have to pay house rent and educate our children. In 2019 when the company was going through a slowdown, I personally spent Rs. 6,000 and got 40 TV set top boxes installed to help the company."
According to the employees, when they first joined Hathway, they were given a written bond stating that their jobs would be made permanent after three years of service.
"If we are not compensated with five days, we will go on a strike for which even the technicians and other office staff will support us to get justice," said the aggrieved employees.