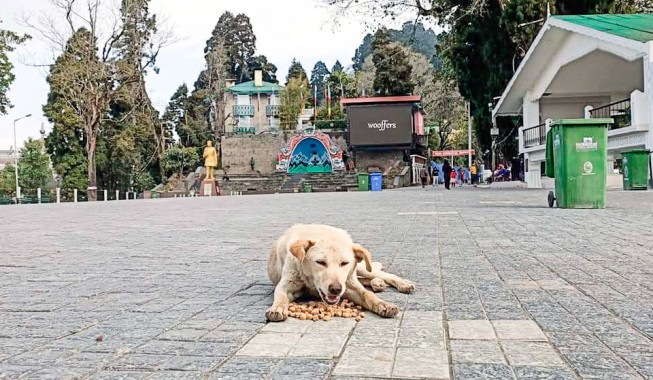 Saturday, Mar 28, 2020 13:10 [IST]
Last Update: Saturday, Mar 28, 2020 07:14 [IST]
Feeding the stray animals during lockdown
Our Correspondent
DARJEELING: Many animal lovers are coming forward to provide food to the stray animals in Darjeeling hills during the lockdown period.
Stray dogs are dependent on food wastes and leftovers from restaurants and eateries. With the 21-day lockdown starting March 25, the stray animals have been struggling to find food.
Understanding their plight, people here are preparing food and giving a one-time meal to the stray animals daily.
'Woffers' is one such body that has been doing this and had made similar efforts in the 103-day strike the hills saw in the year 2017 so the animals do not die of hunger.
"We started providing food for the animals from the second day of lockdown. Presently, I am distributing food alone as I do not want a crowd to be formed when at this time social distancing is the key for survival," said Paruka Chettri, chairperson of the organization. She also appealed to people to provide food to the stray animals in their own localities.
"During the time of the strike, we had many volunteers and used to provide the stray dogs with meat and rice but this time being alone it is not possible for me to carry such a load. I am giving pedigree to stray dogs and biscuits to those who do not like it which also include monkeys," she said adding that animals should be cared for and moreover if animals die due to hunger, another epidemic could spread.
She is feeding around 40-50 stray dogs a day and the number is increasing. Around 7 kg of pedigree and 12 big packets of biscuits are required.
Chettri is also providing around one and half kg of wheat grains to the pigeons.
The food distribution to the stray animals and pigeons is done with funds provided by the people.
Due to the lockdown, the stocks of pedigree and biscuits are slowing diminishing and Chettri has written to the Gorkhaland Territorial Administration for help.
Many individuals are also seen helping the stray dogs.
Arbind Subba from Mirik, Krishnanagar has started giving home-prepared food to stray dogs in his area and now is planning to cover more areas.
"I have been giving 20 to 25 stray dogs home-cooked food once a day which consists of rice prepared with meat and vegetables and now I plan to do the same in the Lake area also which is nearby. In other days, these dogs used to get food from restaurants and hotels but it being closed there is no place for them to get food," said Subba.
Subba prepares food from 2 kg rice, one kg meat and vegetables.
"It is good that many people are doing this in their own areas. There are many people I know who are doing this and also asking others to do it. However, one should keep in mind when doing it to keep social distancing and not loiter around in other places," said Subba.