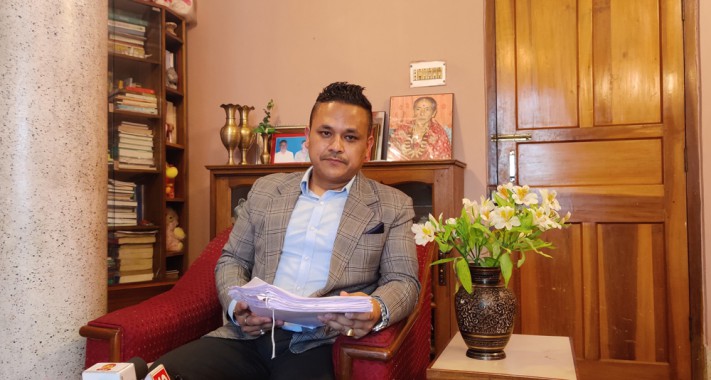 Sunday, Sep 13, 2020 13:45 [IST]
Last Update: Sunday, Sep 13, 2020 08:12 [IST]
Fight against nepotism will continue: Nawin Kiran
ISABELLA GURUNG
GANGTOK,: Socio-political activist Nawin Kiran Pradhan today said his fight against nepotism is a long one and will continue if the State government doesn't act against the '1,600 illegal appointments.'
Pradhan who has threatened to launch a movement if the State government fails to act on his demands in 100 days starting August 5, said he will start the 'andolan' on November 18, later this year.
"The fight against the 1600+ will continue. When I first received the list of the 1600+ appointees, some information like the employees' father's name and the process of appointment were not included in the list. On asking the details again, it was found that the concerned/parent departments had excluded many names from the list. These are the names of appointees who are related directly or indirectly to people from higher posts or politicians. Are they really suspended from their concerned department or their names have been just struck out is in question," saidPradhan.
After 100 days, starting August 5 we will go to the High Court and will also move to the streets demanding answers, he added.
The activist also highlighted various other issues including the appointment of chairpersons, advisors and political secretaries by the State government.
"The ruling party had called for Parivartan before election and now the question arises as to who is benefitting from this? It is not helping the poor in any way, but such appointments are only affecting public fund," he said.
On the OFOJ appointments made during the erstwhile SDF government, Pradhan said it was a government welfare scheme, but some families have more than two-three government jobs. "The State government can investigate the issue. We had given the State government 100 days, starting August 5, to make permanent the jobs of genuine OFOJ candidates. The ultimatum given to the State government is 100 days, which will get over in November 18. We are serious about the issue, along with the 1600+ appointments," said the activist.
Pradhan also expressed that the suicide rate in Sikkim has increased to 33 percent which makes Sikkim the second highest State again. The Ease of Doing Business is also the second lowest in the country after Tripura. The State government should focus on such things as the State's social graphs are decreasing day-by-day,"he stated.
Regarding the assembly session to be held from September 21, Pradhan urged the ruling party to pass the resolution for reservation of Assembly seats for Limboo-Tamang communities.