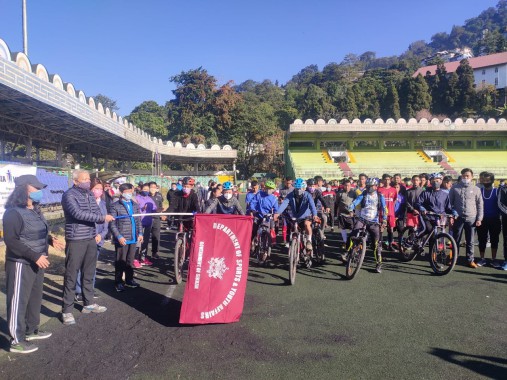 Wednesday, Dec 02, 2020 10:00 [IST]
Last Update: Wednesday, Dec 02, 2020 04:30 [IST]
Fit India Campaign for December launched
KUNAL RAI
GANGTOK,: Following the directive of the Ministry of Youth Affairs & Sports, the Sports & Youth Affairs (SYA) department launched the 'Fit India Campaign December 2020' at Paljor Stadium, Gangtok today.
Sports secretary Raju Basnet informed that the campaign was launched by Prime Minister Narendra Modi in 2019 with the aim to promote fitness, and make the people healthy and health conscious.
Basnet informed that a series of events under the movement are scheduled to be initiated during December. The events scheduled are Fit India Thematic Campaign- virtual, Fitness Assistant through Fit India App, Fit India School Week, Fit India Quiz, Fit India Prabhatpheri and Fit India Cyclothon.
"The first event today was 'Fit India Prabhatpheri', where 'Prabhat' stands for early morning and 'pheri' means walk or run. The event will continue till December 6," said Basnet.
The Sports secretary, on behalf of the State government urged masses from all age groups to participate in the movement and initiate fitness activities daily for half-an-hour. "During the Covid pandemic, everyone should be fit and have strong immunity. Boosting your immunity is inter-related to fitness and exercise," he said.
Fit India Movement is being initiated in all four districts and 32 block administrative centres of the State, informed the Sports secretary.
The inaugural session was attended by State officials, coaches and athletes.