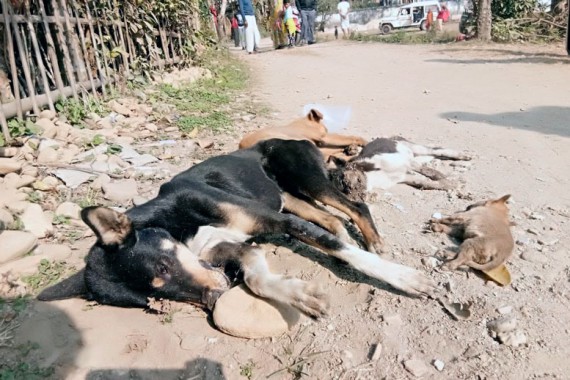 Tuesday, Feb 11, 2020 11:45 [IST]
Last Update: Tuesday, Feb 11, 2020 06:02 [IST]
Five stray dogs poisoned to death near Bagdogra
PRASHANT ACHARYA
SILIGURI: In another inhumane incident, five stray dogs including two puppies were poisoned to death by unknown miscreants at Kistopur near Bagdogra. With this, 16 such stray dogs have been killed within last five months in Bagdogra area.
Local NGO members said earlier the killing of dogs was in a different way and the location was in town area but this time the dogs are killed in the village area where there is no threat of any dacoit or theft.
"This killing might be due to fear of Coronavirus as villagers are afraid of the virus after hearing that it spreads from the animals and they have little knowledge about the virus," said Pintu Sarkar, an animal lover who works for the saviour of speechless animals.
Bagdogra police reached the spot and took the dead bodies of the dogs and also have started the investigation.
Locals informed that they saw the dogs lying dead in the nearby field in the morning. They however denied about the killing by the villagers due to the spreading virus.
Bilash Dey, who first noticed the dogs lying dead near his house, said the dogs were poisoned by some miscreants who hate dogs as sometimes their hens and chickens were chased by these stray dogs. He however denied that dogs were killed due to fear of Coronavirus.
Villagers informed that police have detained one person after the complaint, the said person used to pelt stones and beat dogs.
Earlier on October 25, last year, six dogs were poisoned to death and three were found in serious condition at Buribalason in lower Bagdogra and a month later five dogs including a pregnant dog were poisoned to death at Defence Colony and nearby Kamalpur Tea Garden in Upper Bagdogra.