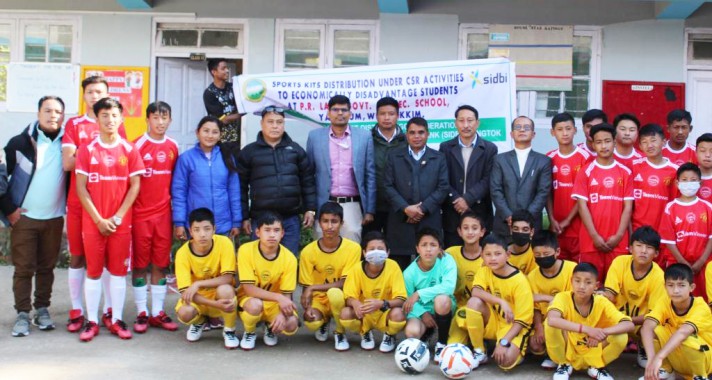 Tuesday, Dec 07, 2021 07:15 [IST]
Last Update: Tuesday, Dec 07, 2021 01:41 [IST]
Football kits distributed to talented students in West Sikkim
PRITAM LAMA
GEYZING, : West District NGOs Federation distributed football kits to the students of Kaluk senior secondary school and Yangsum senior secondary school in West Sikkim today. The sports kits were sponsored by Small Industrial Development Bank of India (SIDBI) as part of their CRS initiative.
The recipient students were active footballers and belonged to economically weaker sections.
The distribution programme held at Yangsum Senior secondary school had NHPC chairman G.R. Sharma as the chief guest. Also present were panchayat president B.B. Gurung, panchayat member Sumitra Rai, school heads, NGOs and students from Kaluk and Yangsum schools.
The kit included a football, a set of football jersey and football boots.
West District NGOs Federation president Dr. D.K. Gurung said today's programme was an effort of the organisation to uplift and encourage young sports talents from economically weaker sections.
He stressed on skills development of students and urged students to take sports as a career along with academics. He asked students to take inspiration from football legend Bhaichung Bhutia and several others from the State.
Kaluk senior secondary school's Gunjan Khati, who represented State in the prestigious Santosh Trophy, was among the students that received football kits today.
SIDBI Gangtok manager Ritvij Sharma highlighted the CSR initiatives of the SIDBI through which funds are provided to NGOs for social works.
The NHPC chairman highlighted various initiatives and schemes of State government for the welfare and development of sports and education sector. He said sports too has a future prospect and urged students take sports as not just a hobby but to take seriously in life along with academics. He assured all possible support from his side to the young sports talents from the region. He also lauded the initiative of West District NGOs Federation and SIDBI Gangtok.
The Yangsum school vice principal thanked the West District NGOs Federation and SIDBI for the initiative which, he said, will boost the morale of students and encourage the students towards sports.