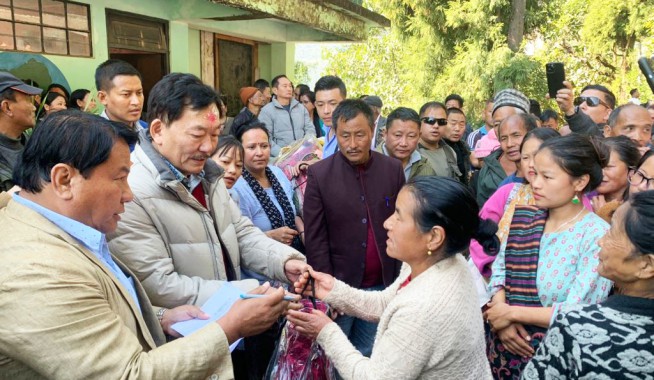 Saturday, Dec 03, 2022 08:45 [IST]
Last Update: Saturday, Dec 03, 2022 03:03 [IST]
Former CM meets Pathing landslide victims
BIJOY GURUNG
Chamling demands State to provide permanent rehabilitation package of Rs. 50 lakh, one acre of land each for displaced families
YANGANG,: Former Chief Minister Pawan Chamling has demanded the State government to provide at least one acre of land and Rs. 50 lakh to each of the Pathing landslide-affected families so they can be permanently rehabilitated.
Around 76 families have been displaced in Pathing near Yangang bazaar when a perennial landslide became dangerously active last week. Some of affected families have fled to residences of their relatives away from the landslide zone and remaining are placed in temporary relief camps by the administration.
Chamling, also the SDF president, visited a relief camp set up at Pathing junior high school on Friday with his party workers. He handed over blankets and cash to purchase medicines to the affected families at the relief camp. He extended solidarity from the SDF party to the landslide victims of Pathing.
Seasonal vegetables and dairy farming are the main sources of livelihood in Pathing village.
In his brief address, Chamling, who was born and brought up in Yangang, recalled that Pathing was a prosperous village but the landslide has totally changed its landscape. The residents here are in a danger zone, he said.
The SDF president appealed the State government to immediately station a State Disaster Management Authority team at Pathing till the landslide stabilizes or a permanent solution arrives. A full-fledged disaster management force should be stationed here to take up rescue and relief works if any untoward incident happens as the landslide is still active, he said.
Chamling further demanded the State government to provide Rs. 50 lakh in cash to each of the 76 displaced families so they can build new houses as per their choice and requirement.
"Those whose lands have been claimed by the landslide should be provided with at least one acre of land. The government must buy and allocate at least one acre of land to each affected family. The Centre also provides land up to 10 acres immediately in such cases even from forest land. The State government can do it, it is within their purview," demanded the former Chief Minister.
Chamling further demanded that the State government should provide complete relief and food rations to the affected families till they are permanently rehabilitated. The government must take care of the needs of the landslide victims, he said.
The SDF president was accompanied by the party workers and functionaries.
In his public interaction, Chamling recollected his early days in Yangang and the bond he shares with the people of Yangang. "During 25 years of our government, I always used to think what best I can do for Yangang, a place where I was born and grew up. Hence, we brought Sikkim University to Yangang so our children here can take higher education at their doorsteps and do not have to go far away," he said.
Chamling shared that his SDF government also initiated the ambitious skywalk project at Bhaleydhunga cliff in Yangang for ensuring sustainable tourism in the area.