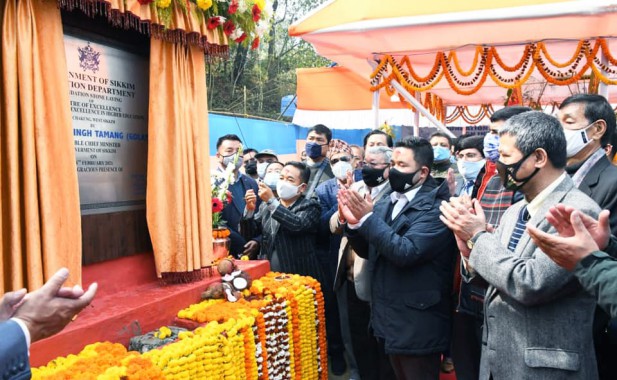 Thursday, Feb 25, 2021 06:45 [IST]
Last Update: Thursday, Feb 25, 2021 01:16 [IST]
Foundation stone laid for Centre of Excellence at Chakung
KUSH HANG LEEWANG
Never used pandemic as an excuse but worked hard: CM
GEYZING,: Chief Minister P.S. Golay on Wednesday laid the foundation stone of the Centre of Excellence, an institute of excellence for higher education, at Chakung in West Sikkim.
State chief economic advisor Prof. Mahendra P. Lama, Lok Sabha MP Indra Hang Subba, Education minister K.N. Lepcha, ministers, MLAs, officials and others attended the programme.
In his address, the Chief Minister said the foundation stone laying for the Centre of Excellence at Chakung was a historic achievement for the education sector of Sikkim. The institute will be established as per education norms and guidelines of the Centre, he said adding that the centre of excellence at Chakung will have all required facilities and infrastructure.
He informed that an amount of Rs. 891 crore has been sanctioned for setting up the institute to be functional from 2023.
Golay said the centre of excellence will grow to be an international education institution that will draw a large number of students from within and outside India for higher education. The centre will play a crucial role in employment generation in the State also besides developing capable human resources in near future, he said.
The Chief Minister said Prof. Mahendra P. Lama, also the founding vice chancellor of Sikkim University, should take a larger responsibility for establishing the Chakung centre of excellence given his vast experience as an educationist.
Golay said the upcoming centre of excellence will serve the higher education aspirations of Sikkimese students who have to rely upon institutions outside the State. He announced to bear educational expenses of students coming from economically weaker sections.
"Students desiring to pursue education but lacking financial support will be helped either through Chief Minister's fund or other possible means. I am there to assist those who cannot afford educational expenses."
Golay asserted that Sikkim government took developmental initiatives in health and education sector despite global crises due to Covid-19 pandemic in 2020.
"The SKM government never used the pandemic situation as an excuse to halt development in Sikkim but worked hard to initiate numerous constructive schemes in Sikkim. We could have portrayed Covid-19 as a hurdle to development but we never did that as the State government needs to be transparent and answerable to the people who voted us to power," said the Chief Minister.
The Chief Minister also commented on the Geyzing Government College campus construction work and protests made by students. He said the campus project work was halted because the previous SDF government had not released the required fund. It was the SKM government who reviewed the matter and resumed the college campus construction work, he said adding Covid-19 and lockdown hindered the construction work. He urged the students to have patience and assured that the college campus project would be completed as promised.