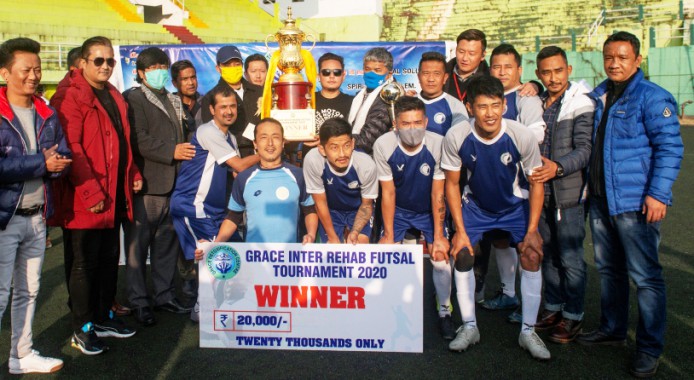 Monday, Dec 21, 2020 08:15 [IST]
Last Update: Monday, Dec 21, 2020 02:39 [IST]
Gangtok team wins inter-rehab centre futsal tournament
KUNAL RAI
GANGTOK,: Rehabilitation centres from across Sikkim, Darjeeling, Kalimpong and Siliguri competed in a two-day inter-rehab centre football tournament at Gangtok on December 19-20.
The 18-team tournament, a first sports event at Paljor Stadium since Covid-induced lockdown, was organised by Grace Detoxification Centre under the banner of Grace Foundation.
Gangtok team 'Recovering Fellow Brothers' defeated United Fellowship from Siliguri 2-1 in a closely contested final to lift the winners' trophy.
The winners were awarded a trophy and a cash prize of Rs. 20,000, while the runners up team received a cash prize of Rs. 15,000 along with the trophy. Furthermore, all the participating teams were given certificates and individual honours were also handed away.
Addressing the gathering before the start of the match, Lok Sabha MP Indra Hang Subba lauded the organisers for holding this "unique" tournament for the recovering drugs and alcohol users.
"This kind of tournament is a must. It's really encouraging. The individuals who had made mistake in their life are rectifying themselves and I laud their effort. I am sure their participation in sports activities will set an example for others who are in wrong path," said Subba.
The MP also applauded Sikkim Police for their efforts towards drug control in the State. Their efforts will ensure safety to our youngsters, he said.
IT department chairman Tenzing Lamtha, who was chief guest for the semi-final matches, appreciated Grace Foundation for organising a futsal tournament for the rehabilitation centers of the State and neighbouring hills of Darjeeling and Kalimpong.
"The tournament has a hidden message as in today's scenario not just our home but entire globe is affected by drug abuse. Holding such tournaments and encouraging healthy lifestyle amongst the users is the need of the hour. The youth must be engaged in all this kind of sporting and physical activities so that they can be saved from drug abuse. There is a need to create positive environment for the youth and the users and the way the centers are taking part is really laudable and I congratulate them. We all need to come together for the betterment of youth related activities in future as well," said Lamtha, who is also the owner of Sikkim Himalayan Sporting Club.
Khadi Board chairperson Chung Chung Bhutia was the guest of honour for the semi-final matches.
Before the summit clash, an exhibition match was played between Press Club of Sikkim and Dirty Angels Motorcycles Club. The matched ended in a 2-2 draw.
The tournament was held following all Covid guidelines issued by the government, informed chief patron of the tournament, Tshering Wangchuk Lepcha.