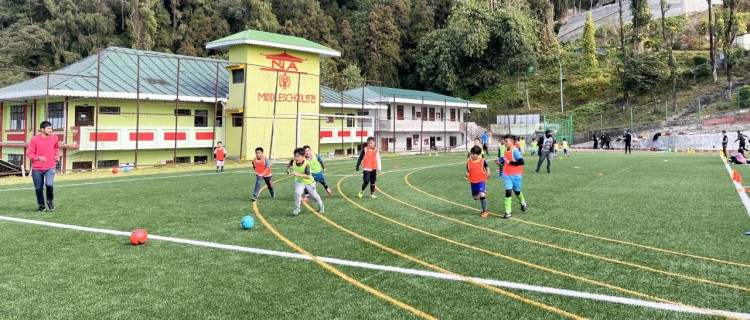 Saturday, Jan 08, 2022 07:00 [IST]
Last Update: Saturday, Jan 08, 2022 01:25 [IST]
GFS commences grassroots football plus programme
DICHEN ONGMU
GANGTOK,: Grasssroots Football School (GFS) have commenced their first phase of grassroots football plus programme from January 3 here at Tashi Namgyal Academy playground.
A total of 45 children from 6-12 years (boys/girls) of age group have enrolled for the camp.
"The aim of this programme is to primarily focus on football and alongside the development of personality and character of a child. Here we are not just providing football training on field but also conducting non-theoretical interactive classroom session", informed GFS director Rohan Pradhan.
The programme offers many scholarship opportunities where early birds will get 40 per cent off and TNA students will get 50 per cent off in the registrations fees of Rs. 3000 and Rs. 2500 respectively, he added.
He further mentioned that the first phase is scheduled from January 3-16 followed by second phase from January 17-26 and third phase from January 31-10 February.
GFS football coach Sonam Topden informed that for children between 6 to 9 years are given basic training about football which is more like a fun session for them.

However, children above 9 years are given advance training on football.
Sharing the schedule of the programme Sonam highlighted that the children are getting total of two hours training where, one hour is marked for theory session on teamwork, communication and leadership followed by one hour field session on football.
"The response is overwhelming, it's a new thing for us as well. The children are enjoying and learning. Through this programme, we try to see football through the perspective of the child as well as the parents. So far it's going great", added Sonam.
Speaking to SIKKIM EXPRESS, Rekha Jain, a parent, shared that the main reason why she chose this programme was that she wanted her child to come here and get rid of the regular screen time.
"It's more like a relaxation for me and my child here where we can spend time together as well learn new things. Also I wanted to change the mentality that people have about football. It isn't just meant for boys even girls can nail this game, therefore, I am assisting my daughter come out of the cocoon and make her fly like a butterfly", she added.
The GFS team is phenomenal, I am looking forward for more such programmes in future, said Jain.
Jiten Lama another parent shared that the pattern of GFS is new and unique compared to traditional football camps. Both training and learning activities are going hand in hand which the Kids are really enjoying.
Sessions on listening skills, teamwork, relationship building are few aspects which is really useful for our kids in the long run which GFS is inculcating through this program, added Lama.