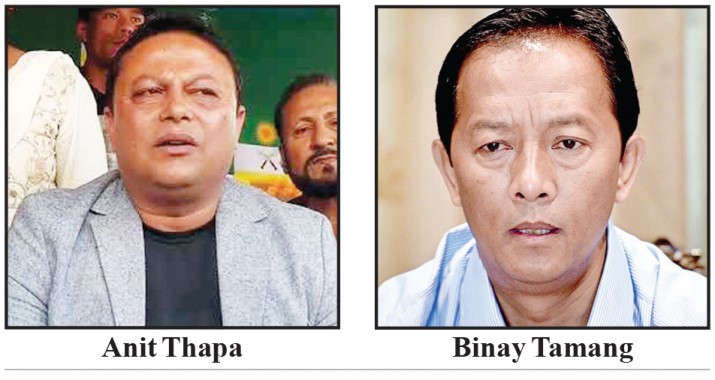 Sunday, Jun 28, 2020 14:15 [IST]
Last Update: Sunday, Jun 28, 2020 08:37 [IST]
GNLF demands AnitThapa, Binay Tamang to take 14-day quarantine after Kolkata return
Our Correspondent
DARJEELING: The GNLF today demanded that GJM leaders AnitThapa and Binay Tamang should undertake 14-day quarantine after having returned from Kolkata as per government guidelines.
The two Morcha leaders had attended an all-party meeting at Kolkata on June 24.
"Government guidelines should be followed by all whether it is an ordinary person or those occupying high posts like Darjeeling MP RajuBista had done. He had taken a 14-day quarantine after his return from Delhi which was a good example for the people," said GNLF leader Ajoy Edwards.
Edwards maintained that as per standard operating procedures of the State government, all returnees coming from the five States having maximum Covid-19 cases have to undertake 14-day home quarantine. This rule is for everyone and it should be followed by all includingthe two Morcha leaders who have returned from Kolkata recently, he said.
Several Covid-19 cases were being reported from Kolkata and the two Morcha leaders while there had to meet many people, said the GNLF leaders.
The five States mentioned in the government guidelines are Maharashtra, Delhi, Gujarat, Madhya Pradesh and Tamil Nadu. Those returning from these States have to do institutional quarantine of 14 days.
Meanwhile, the GJM has said the procedure does not apply to the two Morcha leaders.
Morcha functionary Keshav Raj Pokhrel said: "The government standard operating procedure which the GNLF is citing does not apply to our two leaders as it is an intra-State travel. The State government has a guideline for domestic travel by air within the State which maintains that on arrival, health screening will be done for all passengers. Those asymptomatic persons will be released with the instruction that they self-monitor themselves for 14 days and if they show symptoms they should contact the different helplines. These are all being followed by our leaders."
Pokhrel pointed out that the Darjeeling MP had come from Delhi which is a Covid-19 high burden State and hence, he stayed for quarantine of 14 days.