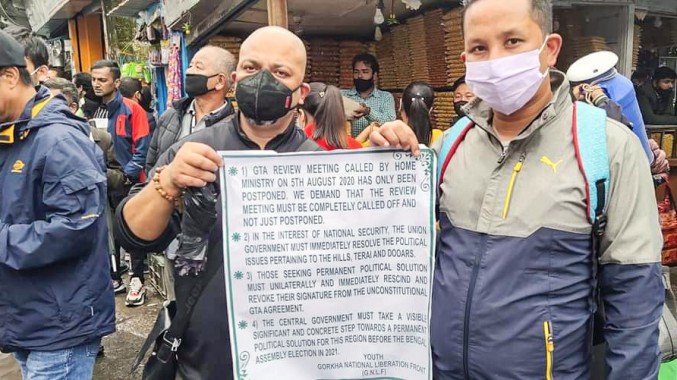 Wednesday, Sep 16, 2020 13:00 [IST]
Last Update: Wednesday, Sep 16, 2020 07:11 [IST]
GNLF, Zimbademand permanent political solution
Our Correspondent
DARJEELING: The Gorkha National Liberation Front (GNLF) youth wing today put up posters in different parts of the hills demanding that concrete steps be taken by the Centre towards a permanent political solution for the region before the West Bengal Assembly elections, scheduled next year.
Party functionaries maintained that the posters were to pressurise the Central government to take up the issue in the ongoing monsoon session of the Parliament which started Monday.
GNLF central committee member Y. Lama said the postering has been done under the directions of the party president to highlight four demands.
"One of our demands is a concrete step on a permanent political solution before the 2021 Assembly elections. People have supported the BJP for three terms now during the Lok Sabha elections and 12 years have already passed. If nothing is done now then the political equations in the hills can change," he said.
The other demands raised by the GNLF include a tripartite GTA review meeting called by the centre on August 5 which has been postponed be cancelled and giving priority to national security a political solution for the Hills, Terai and Dooars should be done soon.
Speaking about the fourth demand, Lama said, "We have time and again said the GTA is not our demand and it does not fulfil our aspirations. We want that those supporting a permanent political solution the GJM (Bimal camp) should withdraw their signature from the GTA agreement."
On the other hand, Darjeeling MLA Neeraj Zimba today also wrote to the Home minister Amit Shah to open a dialogue process for a permanent political solution.
"The GTA was a stop-gap arrangement born out of the tripartite agreement between the Centre, the State, and the majority ruling party GJMM. It has now been running with a few nominated members handpicked by the ruling dispensation as a purely temporary measure in obvious disregard to the democratic norms of the Indian Constitution," said Zimba
The Darjeeling legislator added that the resentment felt by the people against the six-monthly extensions of the tenure of the existing ad-hoc GTA administrative board since 2017 may take a serious turn making the situation more volatile creating greater disturbances and disharmony in the area. He expressed that under these circumstances, they should initiate a dialogue process for finding out a permanent political solution for this region at the earliest by involving all the stakeholders and political parties.