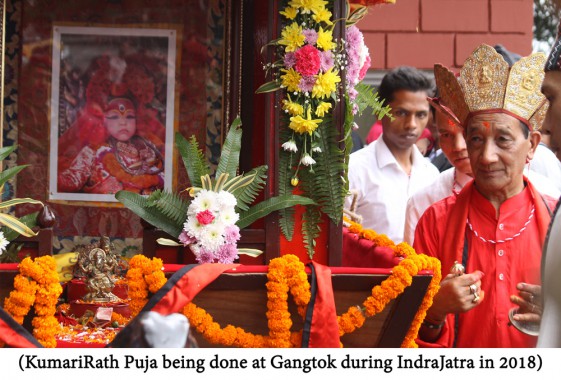 Sunday, May 31, 2020 15:45 [IST]
Last Update: Sunday, May 31, 2020 10:17 [IST]
Goddess Kumari: the legends of its origin
PART-I
SHITAL PRADHAN
Ten years back on my first visit to IndraJatra festival at Zero Point, Gangtok I happened to see a photo frame of a small girl in red costume significantly distinct from other girls of her age with the painted third eye on her forehead. That was my first day with IndraJatra, Newar's biggest festival at Sikkim and off course with the goddess Kumari, which in 2011 was declared a Government Holiday by the State Government of Sikkim. The festival highlighted the pulling off a chariot by the devotees with a photo frame of Goddess Kumari on it that was moved through the streets of Gangtok from Zero Point to MG Marg. The chariot was led by masked dancers with faces of deities in honour of God Indra and a long procession of Newar devotees.
Getting back to the story of Kumari, it is said there are eleven living goddess known as Kumari in Nepal. The Kumari of Kathmandu also known as the Royal Kumari is considered to be the most significant and largely followed by the Newar population across the globe.
In Nepal, the Newars follows an exceptional customary in which young girls with special characters are formally installed as living Kumari ; regularly worshiped until they attain some biological impurities and they are replaced with another young girl who also has to undergo some set-ups to be identified as a Kumari. The history of Kumari worship in Nepal is hidden in a great deal of legend and mystery. Though there are evidence that a goddess of this name had been worshiped for a very long time.
Him LalGhimire in his article A Study of Living GodessKum?r?: The Source of Cultural Tourism in Nepal writes 'Kumari is derived from the Sanskrit word Kaumarya, which means princess. The word Kum?r? literally means "virgin girl" in Nepali. The Kum?r? or Kum?r? Devi comes from the Hindu faith however most of the "traditional" Kum?r? in Kathmandu are from Newar community. The Kum?r? is a prepubescent girl who is hailed as manifestations of divine and spiritual energy, the living incarnation of the Hindu goddess of power Durga who is also named as Talej? (Tulaja) Bhawani, Bhagawati, K?l?, P?rvat?, Tripurasundar?, Ambik?etc'.
The word Taleju is derived from the indigenous Newar language and translates approximately as the "Goddess of the High Temple" as it is found in a book An Advertised Secret: The Goddess Taleju and the King of Kathmandu, in Tantra in Practice published in 2005 which indicates her status as the chosen deity of Nepalese kings dating back to the fourteenth century when this goddess likely first migrated to Nepal from northern Indian.
Most of the chronicles and oral traditions however place the origin of the royal worships in the Malla period. MR Allen mentions in his book Kumari or 'virgin' worship in Kathmandu valley published in 1976, naming TrailokyaMalla, a late sixteenth-century ruler of an undivided kingdom with his capital at Bhadgaon, Siddhinarasingh, a seventeenth century king of Patan, and yet others JayaprakasaMalla, the mid-eighteenth century Kathmandu monarch who lost his kingdom to the Gorkhas among those who were involved in Kumari worshiping culture.
"Throughout India, Nepal, and other regions of South Asia there is a strong and longstanding ritual tradition—evidence of Kum?r? worship dates back to the origins of India's oldest scripture, the ?ig Veda (circa 2000 B.C.E.)—in which prepubescent girls are venerated as incarnations (avat?ra) of the divine feminine, called Dev? or ?akti" quotes Jeffrey S. Lidke in his book Kum?r?: Nepal's Eternally Living Goddess.
Kumari is highly regarded as a deity whose blessings come true for those who attends her. As such every day many devotees seek for her blessings. She need to follow her rituals very strictly that she cannot talk to anyone except her family members or her caretakers. As such every day many devotes seek for her blessings. A member of her family must worship her each morning as she sits on her throne. Usually it's her mother who dresses her every day in red clothing, paints her special design and other marking as Kumari has to appear. She lives in her KumariGhar with her parents or caretakers; she can never go outside other than to attend a few major festivals during the year. When she has to attend any ceremonies, she is carried.
Legends say, Kumari used to bless the King by marking his forehead with tika mixed with uncooked rice grain and red colour. The blessing during the KumariJatra festival brought good fortune to the King and his kingdom was protected from evil forces. The identification of the royal Kumari with the Great Goddess reveals a key facet of her identity and function as a living divinity. She is the embodiment of a power or shakti that protects the nation against any and all enemies of state.