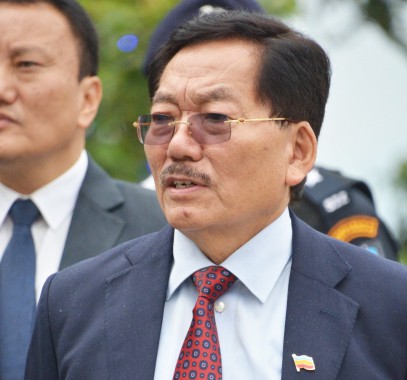 Monday, Jul 04, 2022 05:00 [IST]
Last Update: Sunday, Jul 03, 2022 23:24 [IST]
Golay acting like a puppet of outside influencers: Chamling
GANGTOK,: Former Chief Minister Pawan Chamling accused Chief Minister P.S. Golay of acting as a "puppet of his influencers" to use the darkness of Thursday night to cut down the heritage Banyan tree at the old STNM Hospital complex.
"When the entire people had requested the government to preserve a 100-year-old tree (heritage tree) in the old STNM Hospital premise, CM P.S. Tamang, like a wimp hid in the day time and appeared like a thief in the night to cut down the tree. Who uses darkness to cover their actions? He knows that he is acting against the people, against the spirit of Sikkim. But he is a puppet of his influencers and so he cut down the tree. He is more afraid of them than of the people who voted for him," said Chamling in his weekly Sunday press statement.
The SDF president maintained that Golay is catering to the interests of outsiders by diverting the Smart City project funds into two major private projects. "The Chief Minister diverted all the Smart City project money to two major private projects – privately owned shopping malls at the old West Point School and the Old STNM Hospital. Both the malls are owned by non-Sikkimese businesspeople. First he gave up prime lands (the heartland) of Gangtok city to private companies and then he diverted the Smart City budget to build their malls," he said.
Chamling also commented on the corruption allegations persistently being made by Sikkimey Nagarik Samaj (SNS) against State chief secretary S.C. Gupta.
"Right now Sikkim's chief secretary is facing a major allegation of being involved in corruption. There are also scores of allegations of corruption of the Covid budget and the Economic Revival Committee package coming from various sources. What is our Chief Minister P.S. Tamang doing? He is scolding all those who are demanding an investigation into the corruption. Like a puppet, the Chief Minister of Sikkim is defending the chief secretary of Sikkim who has been faced with this corruption allegation," said the SDF president.
Chamling further accused the Chief Minister of defending the private parties from outside Sikkim who are "exploiting" the quarries here. "Look at how the private parties from outside Sikkim are exploiting Sikkimese quarries. Excavators are directly digging in the rivers. Had Sikkim ever seen such rampant exploitation of sand and gravel and stones in Sikkimese quarries by non-Sikkimese parties? Our CM is defending those exploiters like a puppet," he said.
"It is logical to conclude that all the poll promises given in the SKM manifesto were made by others. Like a puppet, he just distributed the manifesto and announced the promises. The SKM government has become famous for changing their notifications which shows that anyone can manipulate the government's decisions. Look at what happened to the ban on packaged water in Sikkim? This is just one example of how puppet leadership works," said the former Chief Minister.