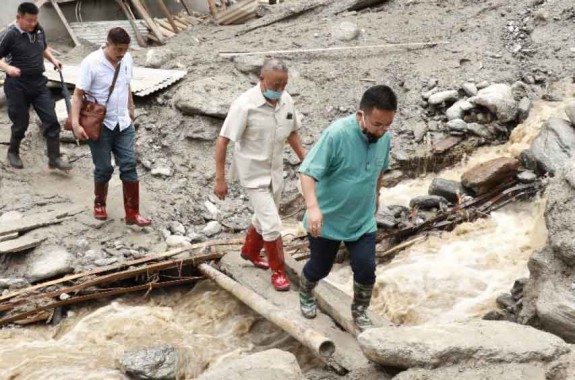 Tuesday, Jun 30, 2020 13:00 [IST]
Last Update: Tuesday, Jun 30, 2020 07:21 [IST]
Golay reach Passingdong, takes stock of slide damages
SE Report
GANGTOK: Chief Minister P.S. Golay on Monday reached Passingdong, Upper Dzongu in North Sikkim and took stock of the damage caused by the Saturday night landslide there.
A massive landslide had caused extensive damage to 19 houses, road and public infrastructure at Passingdong, about 10 km away from Mangan. The 48-odd families have taken shelter at the nearby PHC along Passingdong-Lingthem road.
An IPR release from Mangan informs that the Chief Minister interacted with the Passingdong villagers. He said the residents of Passingdong should be shifted to a safe place as soon as possible as the area is likely to suffer further subsidence.
The Chief Minister directed the Power department to restore power supply in Upper Dzongu and also entire North Sikkim for better communication between the villagers and administration. He instructed the Irrigation department to provide immediate relief and to find permanent solutions for the villagers on war footing. Road & Bridges department should keep road communication open during this monsoon season and also find alternative solutions, he added.
As per the NCRT norms, the 35-affected families of Passingdong were provided with financial assistance by the Disaster Management & Land Revenue department and the north district administration.
The Chief Minister also provided Rs. 2 lakh to each damaged house from the Chief Minister Relief Fund, the IPR release mentions.
As the Passingdong secondary school has been damaged extensively, the local people demanded that the classes be shifted to the nearby junior high school for combined education till things get better.
The Chief Minister directed the Education department to provide combined education as demanded by the local people.
Later, the Chief Minister also visited the old Mangan area where people are living in constant threat of landslides especially during monsoon. Old Mangan and Mangan SNT complex situated in sinking zone has become a landslide-prone area.
The Chief Minister directed the concerned department to set up a proper drainage system and surface water should be diverted to the river to prevent landslide.