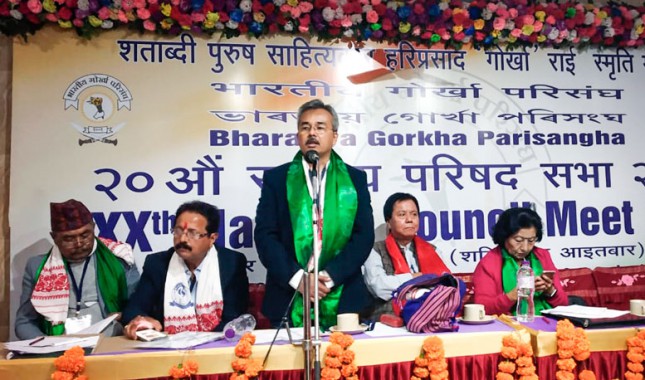 Monday, Feb 17, 2020 12:00 [IST]
Last Update: Monday, Feb 17, 2020 06:25 [IST]
Gorkha Parisangha reiterates Gorkhaland demand in Guwahati Declaration
PRASHANT ACHARYA
SILIGURI: Bharatiya Gorkha Parisangha (BGP), the apex organisation of Indian Gorkhas, has called on the Centre and West Bengal governments to bring a resolution on long pending demand of separate State of Gorkhaland with a permanent political solution.
In a list of resolutions passed as the Guwahati Declaration 2020 during the 20th national council meet at Guwahati, the Parisangh also reiterated its earlier resolution and declarations to work on land rights and allocation of Praja Patta (land rights) to tea garden workers of North Bengal along with the Gorkhaland demand.
The Guwahati Declaration has also welcomed the Bodo peace accord and resolved that the land rights of the Gorkhas in the region be ensured as in pre-BTR Accord status and as protected in earlier Bodo Accords both in protected belt and block and in other areas of BTR.
The BGP national council meet was attended by representatives of 16 States, 3 zones and 9 region and several district committees and was chaired by national president Sukhman Moktan. National working president Munish Tamang placed the keynote address and secretary general presented the annual organisational report.
In the Guwahati Declaration, the BGP maintained that it is keenly engaged with 125th Sixth Schedule Amendment Bill as a stakeholder in various sixth schedule areas of North East. It would continue to work towards an early resolution of problems of Gorkhas of Vijay Nagar with respect to PRC and shall continue to engage politically and socially for resolution.
The BGP added it shall work towards ease of availing Gorkha certificate to the youths across the country for the purpose of defence services recruitment. A committee headed by Col. J.K. Chhetri shall tour and interact with various groups to understand the difficulties in getting Gorkha certificate and shall recommend a single yet credible mechanism to get a Gorkha certificate.
The Parisangh also recommended the award of Padma Shri to Ram Singh Thakuri (posthumously) who has composed some of the famous patriotic tunes for India.
Before the Guwahati Declaration, a 21-member national committee of Bharatiya Gorkha Yuva Parisangha (BhaGoYuP) the youth wing of BGP was sworn in today with Nanda Kirati Dewan from Assam as its president, Netralal Jaisi from Mizoram and Deepak Chhetry from Kolkata as vice presidents among others.
On the second day of the meet, Gorkha political icon and longest serving president of Assam Gorkha Sammelan (1992-2016) late Mani Kumar Subba was awarded the Bharatiya Gorkha Gaurav Samman 2019 posthumously and Padmashree awardee literary figure Lil Bahadur Chettri was conferred the Bharatiya Gorkha Gaurav Samman 2020.