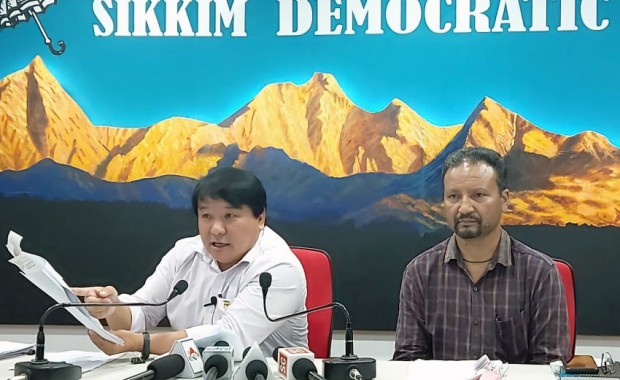 Sunday, Sep 20, 2020 11:45 [IST]
Last Update: Sunday, Sep 20, 2020 05:42 [IST]
Govt lackinginCovidpreparedness: SDF
DICHENONGMU
GANGTOK: The Sikkim Democratic Front (SDF) has criticised the State government for lacking preparedness to tackle Covid pandemic in the State saying it has no plans for overcoming the situation like other States in the country.
Pointing out that the State government is incapable in dealing with the pandemic as it has not arranged for a separate budget yet, SDF spokesperson M.K. Subba today said his party have been suggesting the government to keep aside a certain amount for the pandemic but have all gone unheard.
"Sikkim's Covid recovery rate is good and it is a good sign but the death rate is increasing rapidly with number of positive cases which is scary for a small State like Sikkim," said Subba during a news conference here today.
He further highlighted how the State government has failed in handling Covid situations in the State adding that it neither has pre-Covid treatment plan nor post-Covid treatment plan.
"Sikkim is still not prepared for Covid as it has no plans of overcoming it like other States of the country. Testing rates are very poor as it is conducted very rarely and only when required. No community testing or asymptomatic testing have been conducted so far which is worrisome," he added.
He further stressed that budget specification is must to deal with Covid including expert opinions from the expert medical advisory board which needs to be formed at the earliest.
Commenting on the demise of a health care worker of STNM hospital, the SDF spokesperson expressed that the State government didn't even have a compensation token for the female Covid warrior who lost her life serving the State."I was shocked to know that the deceased will be compensated from the Centre and not the State. It's indeed a shameful moment for all of us," shared Subba.